[Read time: 7 - 10 minutes]
The Apple iOS 14 update and the gradual crumbling of 3rd party cookies took a bite out of many online advertising strategies. To deal with this "Cookie Apocalypse" Amazon Ads devised a new solution called DSP Contextual Targeting.

This approach is a game-changer, and as soon as it was available to Amazon Ads Advanced partners, Channel Bakers rounded up a broad sample of our clients to test DSP contextual targeting across multiple categories and use cases.
---
"Now, more than ever, brands need the ability to be relevant to their core audience's immediate interests. That's the power of contextual targeting."

Kenzie Oster, Director of Strategic Accounts
---
What is Amazon DSP Contextual Targeting?
Imagine a stay-at-home mom of three reading an article online about healthy back-to-school meal prep. This woman is a prime digital audience for kitchen companies to promote their product lines (e.g. cookware sets, meal storage solutions, food prep items). But how would you get ads in front of her at just the right moment?

Amazon Ads DSP contextual targeting empowers advertisers to reach audiences at the exact moment they show interest in your product or category. Like Sponsored Ads, these DSP ad campaigns work on and off Amazon and are perfect for creating awareness and driving customer consideration.
Contextual Targeting Examples
As soon as this audience targeting solution came out in the summer of 2022, the Channel Bakers team enrolled over 21 of our clients. The results have redefined how we think about audience targeting. The opportunity within contextual targeting goes way beyond a single product or category or even a specific Amazon marketer or audience.
At a high level, we saw:
Higher Detail Page View Rates

A premium office furniture brand saw its DPVR leap 406% after Channel Bakers integrated this tactic into
their campaigns.

Improved Scalability

A high-end kitchen accessory brand increased their ad spend by 79% and was rewarded with a 154% increase in sales; plus, they saw a 63% jump in click-through-rate (CTR), and 42% increase in RoAS.

More Sales & Tripled RoAS

A well-known clothing brand saw a 4X increase in sales after implementing contextual targeting and a 3.5X increase in total return on ad spend v. prior targeting tactics.

Increased Visibility

A popular maternity brand doubled their impressions once we started using contextual targeting. In the same vein, another fashion brand achieved almost 7X higher branded searches compared to the quarter prior.
Background
Third-party cookies are depreciating which has greatly limited Google and Meta's ability to gather user information and track activity off their platforms. What's more, fewer and fewer shoppers are opting in to third-party cookies. Consider that:
Only 21% of global iOS users are opting into tracking.
50% of internet users either allow mandatory cookies only, or don't consent to cookies at all.
The problem is, 83% of marketers still rely on third-party cookies in their digital advertising! To bridge this gap, 44% of marketers anticipate having to spend 5 to 25% more to reach the same targets.
What Are the Benefits of Contextual Targeting?

Advertisers can't get the same level of spend efficiency in their search and social ad spend as before. And when budgets are tight, businesses NEED to get the most out of their precious ad dollars.

To fill in the gaps left by Meta and Google, Amazon created contextual targeting, a revised and updated solution that evolved from their older Sponsored Display product targeting system.

Contextual targeting puts third-party cookies to rest in three major ways:
Advertisers can target and retarget engaged audiences with ads relevant to their online search or streaming activity.

Ad units can target shoppers on or off Amazon.

Machine learning constantly adjusts ad campaigns for better performance and less wasted ad spend.
In short, contextual targeting reaches the right customers at the right time and at a much lower cost than ads based on third-party cookies.
Case Study: Contextual Targeting In Action
The Channel Bakers Advantage
Many of Channel Bakers' clients have benefited from a contextual targeting strategy, but let's focus on one story in particular:
A well-known consumer electronics brand wanted to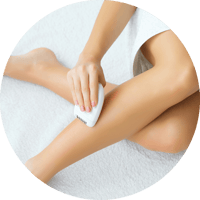 boost sales for an electric shaver.
This beauty shaver was an updated version of an award-winning older model, and much was riding on it performing just as well as its predecessor. Trusting the Channel Bakers team and embracing innovation, our client agreed to test the Amazon DSP contextual targeting tactic, which, at the time, was only available for select partners.
Using this tactic, our ad team reached highly engaged, in-market targets not just on Amazon but across many mediums like the audiences' connected TV, mobile apps, and relevant web searches. Whenever the shopper showed interest in a beauty shaver, say they searched for beauty products on Amazon or looked at shaver reviews on a webpage, our contextually relevant ads were there to greet them.
Results
Timing this consideration and awareness push with a promotion event in February 2023 saw ad performance skyrocket, reaching sales that exceeded their very successful 2022 holiday performance.
Our client had nothing but praise for Channel Bakers' use of contextual targeting:
| | |
| --- | --- |
| | The 'lady shavers' category out-sold every other category our client had on Amazon. |
| | |
| --- | --- |
| | Performance improved MoM as the strategy continued to run. |
| | |
| --- | --- |
| | 65% increase in the share of sales when comparing February to four weeks before campaign. |