Going into 2020, Amazon was already primed to have a record setting year with a projected revenue of $350B, up 50% from 2019…and then the pandemic struck. After the initial toilet paper rush into brick and mortar stores, people started switching to online shopping.
The pandemic brought 145MM new online shoppers (you know…the folks who are still afraid to use their credit card on the interwebs), which resulted in plenty of success for Amazon, especially during their recent, record-setting Prime Day.
But that doesn't mean Amazon is capitalizing on this pandemic. On the contrary, they've been extending a helping hand by emphasizing essentials like hand sanitizer (pun intended).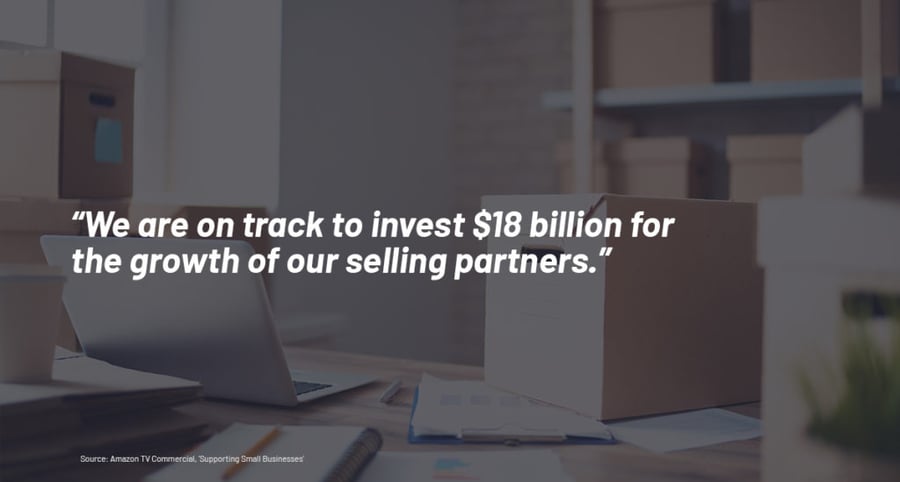 Looking Out for the Little Guys
Small and medium-sized businesses (SMBs) have been hit the hardest by the economic shutdown of 2020. With over 100,000 SMBs shutting their doors for good, Amazon brought it upon themselves to lend a helping hand.
So they set forth a corporate social responsibility (CSR) initiative, aiming to invest $18B in SMBs to get them back on their feet. And if there's one thing we can expect from entrepreneurs, it's that they know how to pivot when faced with adversity. In fact, for many of them, when the doors closed, the laptops opened.
Amazon has already seen 1,029,528 new sellers join this year and according to a Bluehost survey, 50% of SMBs plan to stay online only.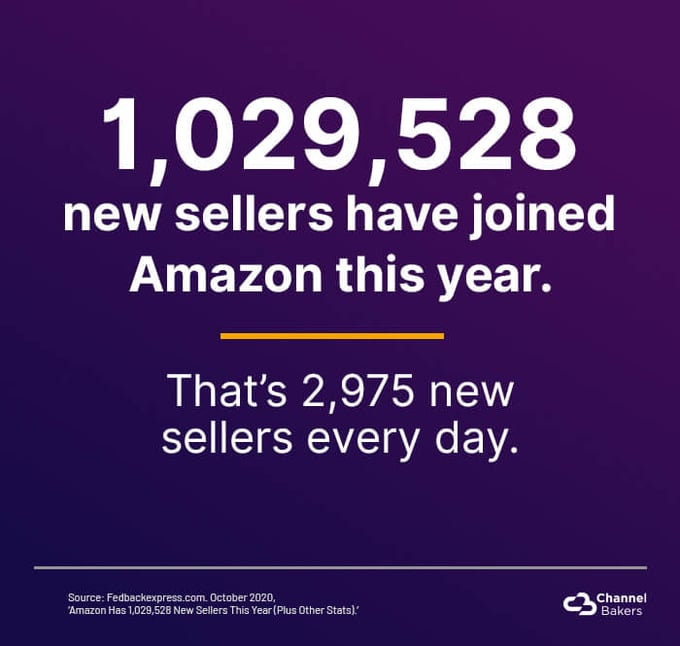 As for shoppers, Amazon made it a point to keep production running, but only for essential items so that consumers could get all the face masks, hand sanitizer, and diapers they needed. This ethical move was coupled with a price cap on many essential items to make sure shoppers weren't getting gouged in a time where unemployment was teetering on 20%.
Society's shift to online shopping has brought a significant change in the way we view the holiday season as well. According to Radial, 60% of consumers plan to shop less in-store this season due to fear of COVID-19 exposure. But it also follows a trend that's been popping up every year around Black Friday…
Does this mean Black Friday's in the Dark?
According to the CDC, shopping at crowded stores around Thanksgiving is a high-risk activity that should be avoided. Over the past couple of years, society has been pushing for a new way to get their holiday shopping done. From REI's Opt Outside campaign to worldwide protests against consumerism, there has been an "anti-Black Friday" perspective emerging.
So what does this mean for Black Friday and brick and mortar retailers?
One thing that we can glean from this pandemic is that brick and mortar stores have had to re-invent their in-store experience.
Both Walmart and Target have put a huge emphasis on click and collect over the past few years, which has contributed to their omni-channel success this year – Walmart.com with 65.4% YoY growth and Target with 103.5% growth.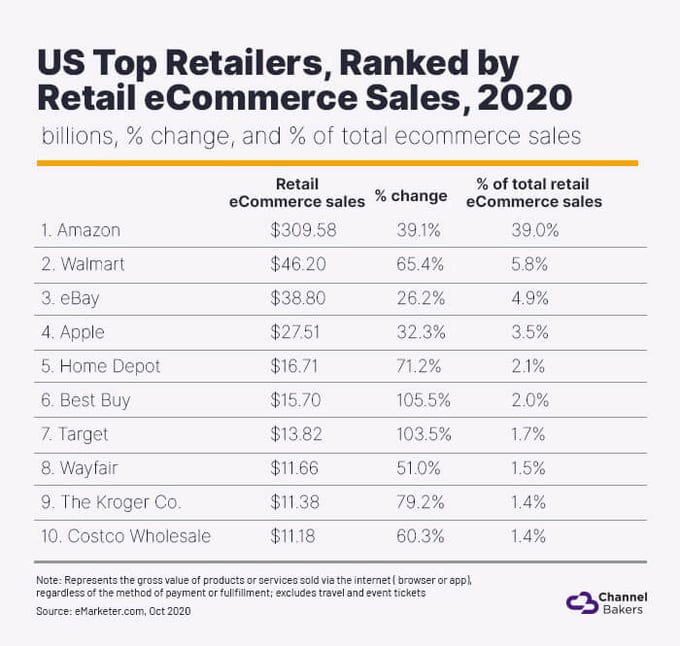 Walmart also recently announced that they'll be revamping their Black Friday sales structure. Rather than having crowds of bargain hunters in-store, they'll be limiting the amount of shoppers allowed inside while spreading the savings "throughout the season". They'll also be implementing shorter store hours and keeping up with all coronavirus prevention guidelines.
So, Who Won Prime Day Then?
According to NBC, Apple Airpods Pro were the top selling item during Prime Day, but in second place? Safe+Mate face masks! Next came Samsung's 65" QLED Smart TV followed by the Yosuda Stationary Bike. This trend of purchasing health and wellness items mirrors what has been consistent throughout this entire year of quarantine.
Amazon also put out a press release stating that marketplace sellers were the winners this year with 60% growth to reach more than $3.5B. And with 2.3MM SMBs making up Amazon's online marketplace and Prime Day sales skyrocketing to over 260 million items, that's a solid win for sellers everywhere.
At Channel Bakers, we're keeping our finger on the pulse and watching this data closely. Where others may see barriers, we try to help our clients find a strategic advantage.
Sarah Lavallee, our VP of Client Success at Channel Bakers, said, "The brands that "win Prime Day" are those that use it strategically as a springboard to make Black Friday/Cyber Monday even more successful. It is rare to have three major high-traffic events in Q4 during a time where we've seen a significant shift in consumer purchasing behavior. Brands that don't leverage this to their advantage are missing a once in a lifetime opportunity."
Let's switch gears back to brick and mortar.
Near the end of every year, brick and mortar stores go through a re-evaluation "reset" to see what products have been moving and what has gone stale on their shelves. Unfortunately, the pandemic has had massive consequences on brands like JC Penney, Pier 1, and Neiman Marcus.
Other brands took advantage of Prime Day's online traffic surge. For instance, Target hosted their "Deal Days" during the Prime Day event and saw more than double the sales compared to last year. Best Buy brought back their own "Black Friday" deals at the same time and it was reported that 51% of the top 100 online retailers had sales on Tuesday too. This led to Amazon realizing a 1.5% drop of total share of commerce.
Ultimately, Amazon still dominates by making up 39% of retail eCommerce.
"US ecommerce sales will reach $794.50 billion this year, up 32.4% year-over-year and will reach an unprecedented 14.4% of all U.S. retail spending this year." -eMarketer
It's safe to say, when it comes to a sound retail strategy, sometimes the best advice is to meet the customer where they are. It doesn't hurt to have a kickass product and a hot deal too.