[Read time: 8 minutes]
When Amazon began Prime Day in 2015 to mark its 20th birthday and celebrate its Prime members, no one thought it would one day become such a massive, annual global online shopping event.

Yet it did! Today, Amazon has over 200 million Prime members worldwide and has made over $12 billion in Prime Day sales last year alone. With that kind of growth, it's easy for brands to think they just have to "show up" on Prime Day to take home their share of sales. But that's not the case. Channel Bakers believes that Prime Day victory doesn't just reside on Prime Day alone but Before, During AND After Prime Day. Having a plan before and after the event may be more critical than for the event itself.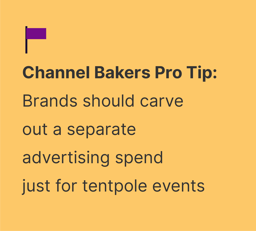 Having a comprehensive strategy is key. Working out the creative strategy and executing on it before the tentpole event, planning your promotions and then getting your best products in stock and staying in stock. Then of course, there's the media and social component. Below our eCommerce, Creative and Advertising experts enumerate the different ways brands can benefit from strategies throughout these phases which can ensure success for Prime Day 2023…and for the rest of the year.



Before Prime Day

Prime Day is won or lost before the event even happens. So it is important to start thinking in terms of Prime Day before you even begin thinking of Prime Day!
Channel Bakers Pro Tip:

Prime Day is NOT just about Amazon. Other retailers like Walmart, BestBuy, Target, etc. will act to match or compete with Prime Day. Brands need to be in control of their channels and plan accordingly.
How To Prep For Prime Day 2023 BEFORE The Day Arrives
While paid search and DSP programs are always recommended, Channel Bakers suggests brands start their promotions before the actual day begins and help extend the lead-in period of Prime Day.

Build up traffic to your pages to help increase your organic ranking. When hundreds of millions of shoppers flock to Amazon on the day of the event, they will have a better chance of finding your product.
Early competitor and category research is very critical to your Prime Day prep this year. Doing the research to understand how to make your products stand out amongst all the competition is key to your Prime Day success. Free tools like Camel, Camel, Camel, Slick Deals or Keepa are available for each vendor. But if you are looking for more advanced tools with detailed reporting features, Channel Bakers has what it takes. You want to research your competition's strategy to plan and allow you to get a bigger market share within the product category. Why? This is so that you can discount enough but not too much. And one way to keep on top of these numbers is to keep on top of competitor historical prices. Channel Bakers has the tools and the expertise to monitor this data for your products.
Channel Baker's recent Prime Member survey showed that 17.8% of Prime members plan to comparison shop on Prime Day. This means they will be comparing your deal on Amazon against deals you have on Walmart, Best Buy and Target. Amazon will price match deals on other retailers so don't take money out of your own pocket unnecessarily.
The 'Before' period is critical to create momentum and awareness. Inbound traffic helps the A10 Amazon algorithm, so by accelerating your budget plans for STV, Audio Ads, DSP, Sponsored Display, and social media teaser campaigns, you increase the relevance of your pages ahead of the event. Not only is this a cost effective way to drive traffic, it also increases organic ranking for your pages.
Lastly, way before the big day arrives, make sure your creative messaging is ready. Optimized pages lead to higher conversion rate. Hence, it is imperative that your branded storytelling is cohesive across:


Product detail pages

Image galleries and A+ content

Any DSP or STV​

Video

Brand store or CLP

Audio Ads

Amazon Posts


Amazon Live
Channel Bakers Pro Tip: Social Media CAN help during Prime Day too! Use all your social media levers to drive traffic toward your deal badges, lightning deals and increase visibility on the platform

---
During Prime Day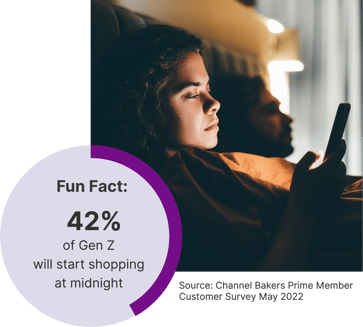 The big day has arrived and it is all about making sure everything is running smoothly. You have your A-game in place and Amazon has sounded the start-bell. ​This is no time to sit back... It is imperative to stay on top of your two-day game and be prepared to pivot based on any changes in the customer's purchase cycle.
What Should You Do During Prime Day?
Monitoring your inventory and deals and being ready to pivot as your inventory depletes are your primary goals on this day. Apart from making sure your deals are live and running there are different techniques you can adopt that will ensure your Prime Day machinery is running smoothly.
Use email and social media to let your customers know when your deals are live, which are your best ASINs and which brand store page to go to access those deals. Remember, a custom landing page (CLP) and/or a custom Prime Day store just for Prime Day is a great way to get a centralized page of all your curated ASINs. This will enable you to feature your entire promotional assortment and create retargeting pools post Prime Day.
Monitor your inventory and your advertising run rate. Be ready to add more funding or shift funding depending on how well your products are selling.
Continue to monitor your competition. Make note of what they are running so you can have more context into your performance and for future planning.
Don't lose sight of other retailers and marketplaces. Keep an eye to see if they are selling below your Amazon price. If so, remember the competitor response plan you created BEFORE Prime Day? Now's the time to pull it out...
Fine tune your POST Prime Day plan based on what you see happening during Prime Day.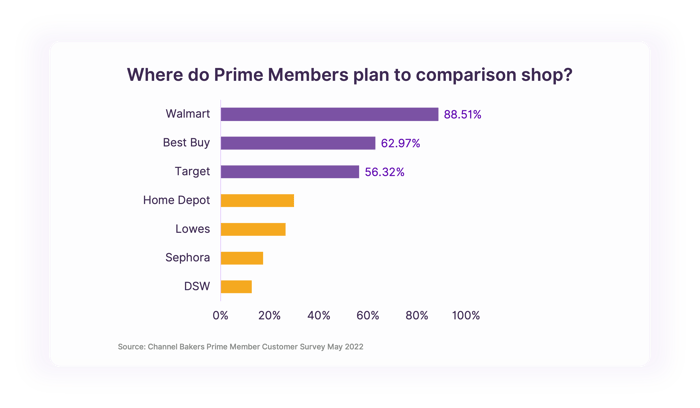 ---
After Prime Day

The Lights are off! Doors are closed! Party is over!! Congratulations you survived the biggest online shopping event of the year!

But your work isn't over. THIS is what you need to do before you wrap up Prime Day for the year.
This is the best time to convert people who came to your pages but didn't purchase or even missed the sale altogether. Utilize Amazon's Dynamic eCommerce Ads (DEA) to retarget shoppers who visited your ASIN pages.


Track your glance views, conversions, and sales metrics to chart out how your sales were impacted before/during/after Prime day.


Creatives - Adjust creative based on learnings. Prime Day gives you rich data regarding where your branded storytelling falls. Use this information to plan and treat the rest of the year.



Remove any Prime Day messaging or offers from your creative assets.
Remember to shift all campaigns to in-stock merchandise.



Reserve a sufficient portion of your ad spend budgets for post Prime Day re-marketing efforts.



Review reviews. Learn from customer reactions, respond quickly and authentically to court them for the future through retargeting strategies.



Continue engaging with loyal customers and interacting with them. Use cross-sell and upsell strategies to immerse the customer in your product eco-system.
Channel Bakers Pro Tip: DO NOT stop your advertising strategy after Prime Day. A lot of the learnings can be adopted for the remainder of the year. Stealth deals and retargeting customers who came to your pages are worth pursuing for the rest of the year.
Final Word
Prime Day is not just a two-day event. Think Before, During AND After the main day.


Plan across all retail channels. If you neglect to do so, the best case is you are taking discount dollars out of your own pocket.

Worst case, you lose the buy box to disruptive sellers

.


Time your communication well. Prime Day 2022 was all about Lightning deals. If this holds course for Prime Day 2023, you may not be in control of exactly when your product goes on sale.


Get your loyal shoppers ready in advance. Use everything you have including your email list, your own dot com and lean into your social channels.


Optimize content to the hilt. The benefits will be amplified - Video increases sales by 58%

​

and enhanced images increase sales by 45%. You will get traffic. Make sure you get the conversion.


​Don't ignore competition - research, plan and execute with them in mind. Try to anticipate their moves and your response in advance.