At first glance, you can usually tell if an Amazon product page is engaging or if it falls flat. And since A+ content (formerly Enhanced Brand Content) is a tried and true way to increase conversion on detail pages, it's safe to say that shoppers can sniff out great products just by looking at the image gallery as well.
Of course there are a bunch of other things you can be doing to rank higher and sell more on Amazon, but if a single tool can have that large of an impact, why wouldn't you utilize it?
The History of A+ pages also known as Enhanced Brand Content (EBC)
If there's one thing we do know, it's that Amazon will never get tired of coming up with acronyms. But don't worry, we're compiling a list of that Amazonian alphabet soup for you right now, so stay tuned.
However, the following acronym was pretty well known up until a couple of years ago: EBC, also known as Enhanced Brand Content. This "Brand Content" was simply better-than-average images and more engaging content below the fold.
Enhanced Brand Content was originally only available in Vendor Central. Smaller startup challenger brands who grew up on Seller Central usually didn't have a relationship with Amazon (predating Amazon LaunchPad) and had no access to EBC or anything like it.
Like all startups, when there's a roadblock, they'll always find a workaround. That workaround paved the way for today's best practices for all brands, whether they are based in Vendor Central or Seller Central. (We'll dig deeper into that workaround in a minute!)
Flashback to 2017, Enhanced Brand Content became available for free to Seller Central-based brands (who were registered with Brand Registry), while brands in Vendor Central were still having to pay for the original version of A+ Basic – aka the next level above EBC.
In January 2018, Amazon made A+ Basic free for brands in Vendor Central. Just a few months prior to that, Amazon had launched A+ Premium, which was a more advanced version of A+ content that was optimized for mobile and Amazon's mobile app.
Fast forward a couple of years and A+ Content has become the norm, allowing vendors and sellers alike to create awesome content from pre-determined modules on the platform.
According to Amazon, "Adding A+ to your product detail pages can result in higher conversion rates, increased traffic, and increased sales when used effectively." So that begs the question…
Why Doesn't Everyone Use It Then?
First of all, it takes time to build. That's why it's often best to employ an agency to devote the time, care, and attention needed to create it for you (*cough* Channel Bakers *cough*).
Now, it is possible to roll up your sleeves and get into the platform yourself for some good 'ol fashioned content creation. Amazon does provide detailed descriptions on what each section requires, but that's just the half of it.
When it comes to your product title, description, and bullet points, we highly suggest having a skilled Copywriter take care of this so that your Detailed Page Optimization (DPO) is clean and SEO-friendly, ranking your products higher in search.
And yes, you most likely have some beautiful images from a recent shoot, showcasing each angle of your product. While we definitely believe that's great to have, we suggest using your image gallery for something that's much, much more important: telling your brand's story.
As you can guess, product shots alone don't exactly tell a story. Sure, the customer gets to see every angle of the product, but it doesn't give them any reasons to believe in the product.
Once upon a time the best practice was to leverage lifestyle images as the way to tell your product's story, but that was literally decades ago (think back to the early dotcom boom).
Back then and even up until 2014, Amazon's Vendor Central Retail Business Services (RBS) moderation team would reject any images that had content embedded in them. The data standards rule in Vendor Central was "85% product, 15% white background".
And this is where the challenger startup brand workaround comes into play. (Told ya we'd get there!)
Challenger brands that began their Amazon selling journey started on Seller Central. Well…Seller Central didn't (and still doesn't) have a data standards moderation team that rejects images that brands submit through the Seller Central console.
Boom! Seller-based challenge startup brands began injecting their A+ content into their images in the image gallery carousel, which was scrappy, way ahead of their time, and super-effective.
Here's a few examples of awesome Seller Central based challenger brands (*cough* Channel Bakers clients *cough*).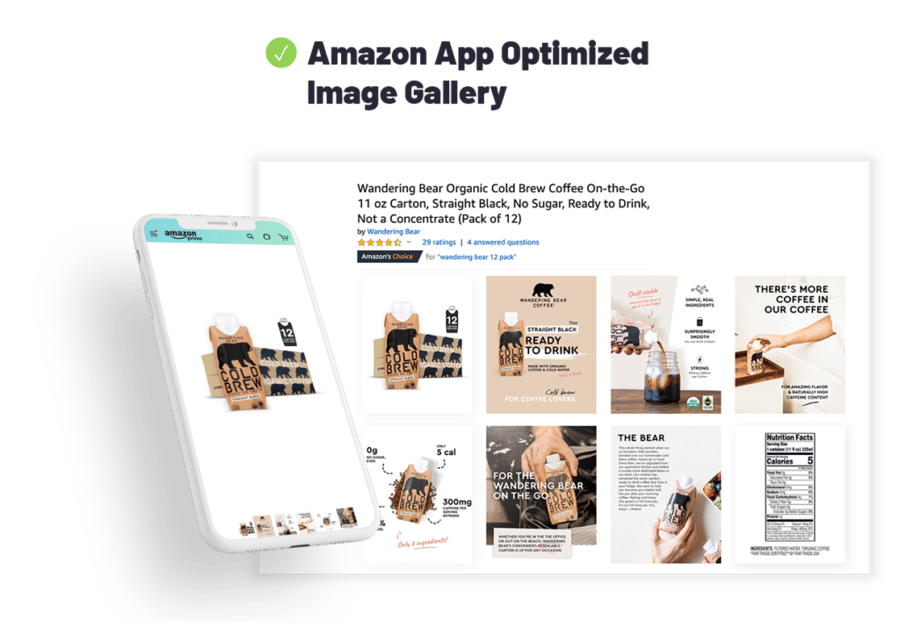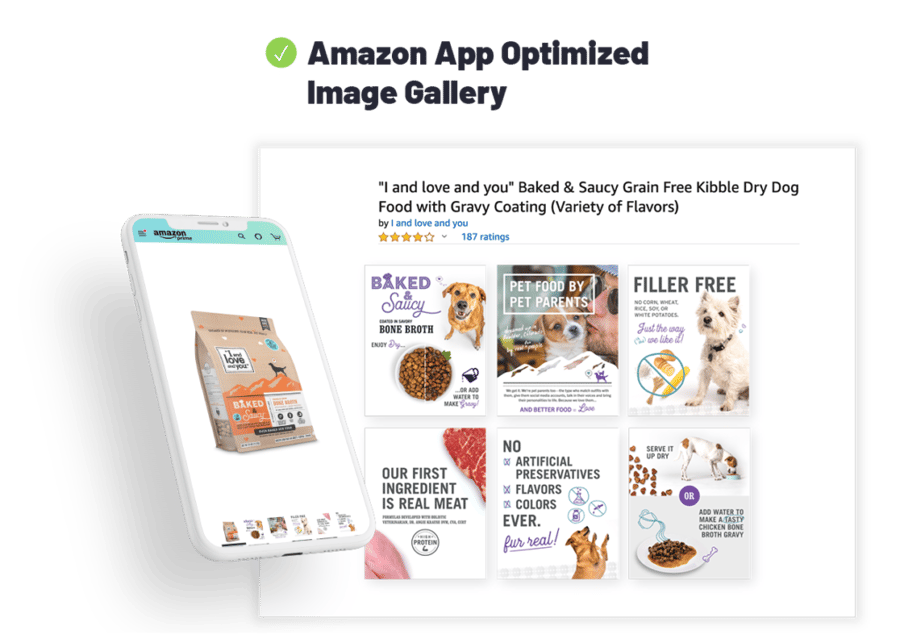 You might be saying, "Ah yes Josh, but I'm a larger, non-startup brand that lives in Vendor Central and we're not allowed to upload images with A+ content embedded." As of 2013, I would have agreed wholeheartedly with you…but what if I told you that was not the case for your ASINs today?
You see, Samsung gets it…(*cough* also a Channel Bakers client *cough*).
Compare Samsung Galaxy Buds to the most popular product on Prime Day 2020, according to Amazon search terms data.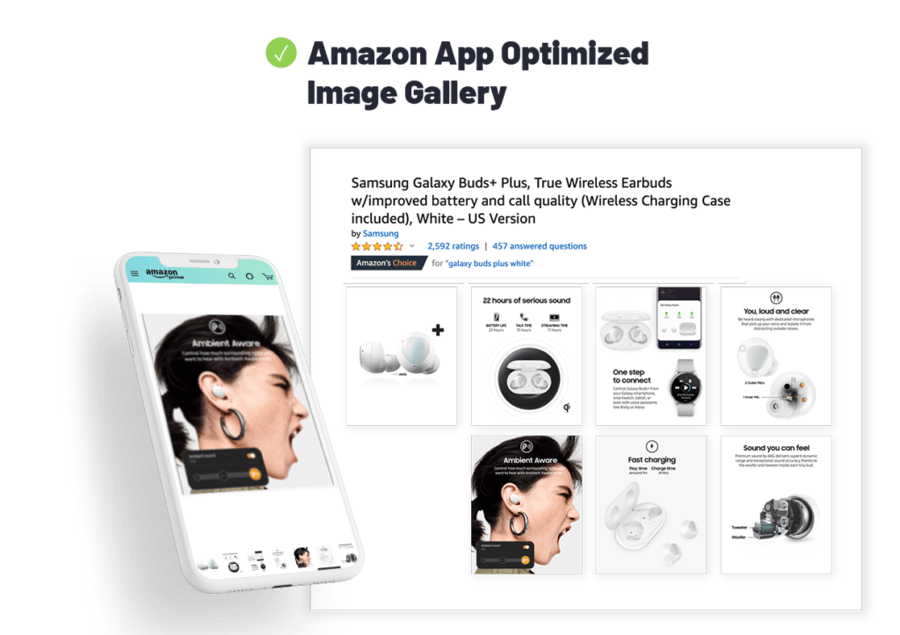 Apple doesn't get it…
Looking at this image gallery we're seeing a handful of pictures that give us absolutely no context as to why we're looking at them, let alone why they selected these images.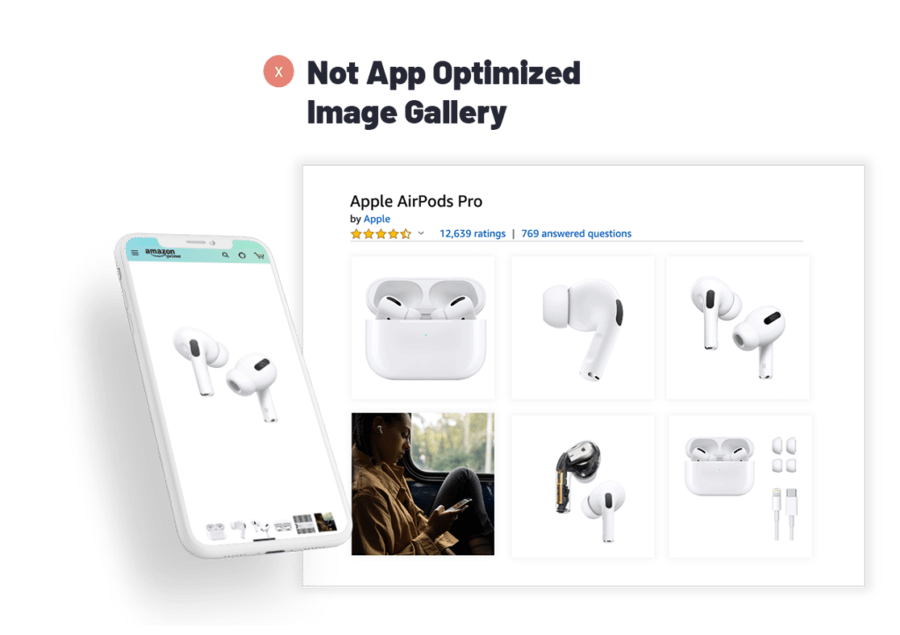 According to Euclid Analytics, 51% of U.S. households use the Amazon Mobile App. With a recent update to this app, the image gallery now overtakes the entire screen when you click to zoom in on the images inside the carousel.
These Amazon Mobile App optimized images are something we call an "Enhanced Image Gallery" (and no, we are not calling it the EIG).
Brad Malm, our Creative Director at Channel Bakers, calls the Enhanced Image Galleries…
"...a beautiful combination of art and science that use your brand's guidelines and messaging to educate your consumers with easily digestible information. It looks great, but it also gives a quick snapshot into how this product can make your life easier."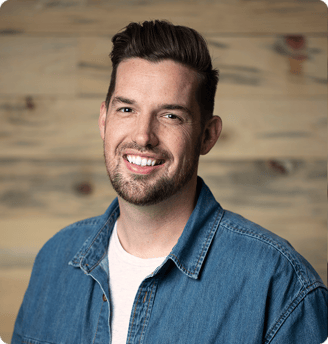 Plus, this kind of information does a great job of informing potential customers of your product's features, leading to less returns and negative reviews.
It's All About the Execution
The ultimate goal is to have a unique mix of engaging content and informative, stylized imagery. The entire image gallery should take the customer on a journey, answering their questions along the way.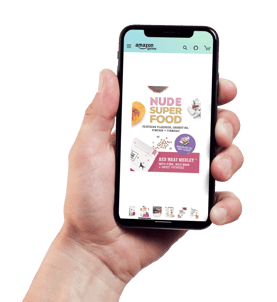 Key points like verified 5-star reviews, industry awards, and
sizzle videos are great ways to legitimize your product in the image gallery. Also, including a 360° spin image has been proven to add a 6-8% increase in conversion.
But the best way to make your Enhanced Image Gallery shine? User experience.
With 151M monthly users on the Amazon Mobile App, the best thing you can do is optimize your images so that they're mobile-friendly.
This means adding in portrait images to take over more of the screen while they scroll. For instance, you can fit quite a lot of information into one of these images while still providing some product imagery to tie it all together.
And according to a survey we ran on Suzy.com, 61% of users prefer to swipe left and right on an image gallery while mobile shopping (thank you, Tinder).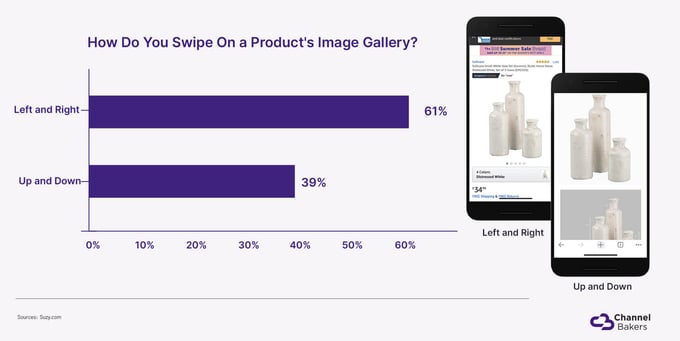 Also, consider that a desktop allows for 9 images (or 7 if you add a video), which is a great amount of shots for people to peruse through. However, mobile only shows the first 5 to 7 depending on the category. So, we typically frontload the first 5-6 images with the strongest storytelling pieces possible to grab the user's attention.
There are still countries out there like Canada, where 73% of users shop on desktop, and Brazil, where 34% of users don't make digital purchases because they like to see the product beforehand.
But that trend is changing every year. The worst thing you can do is let someone else register your product's ASIN on Amazon before you do.
If a third party (3P) seller gets into the Brand Registry before you list it, they have complete control over the product's description, bullets, and worst of all, the image gallery. Unfortunately, if they beat you to the punch then Amazon doesn't have much power to kick their images out for yours.
This is where 3P sellers can really be detrimental to your brand's story, so get in first and get in fast.
But that's just the tip of the iceberg. We've got a bunch of other secret sauce that we'd love to implement to build your following and educate your customers on just how fantastic your brand is.
Let's get in touch and see where we can come alongside you and how we can optimize your Enhanced Brand Images today.