[Read Time: 3 Minutes]
Now that the dust has (hopefully) settled from 2020, let's take a look back at it with fresh eyes. With everyone shuttered inside, people were turning to online shopping, which presented Amazon with the unique opportunity of gaining steam in becoming the de facto retailer for much of the world's needs.
From only selling essential items in the first half of the year to gaining a 31% increase YOY in revenue ($347.946B), Amazon came out on top during the pandemic. But this success didn't just come about through luck; they were constantly adapting and innovating to capitalize on the increased demand for online shopping.
Here are some of the noteworthy changes that happened with Amazon in 2020 that will affect its business moving forward.
Amazon Global
Not one who will be considered behind (even though Elon just topped the richest man chart), Jeff Bezos always has his eyes set on the future for Amazon. He made major acquisitions and threw the world some real curveballs throughout the year.
Here are a few of Amazon's most groundbreaking moves from 2020:
1. At the end of March, in order to shift logistics to support flattening the curve of the pandemic spread, Amazon limited shipping to "essential items" through most of Q2 2020
2. Amazon increased their physical footprint around the world to over 365MM square feet
3. Amazon hired 175k employees to keep up with the pandemic (100k jobs filled in 30 days)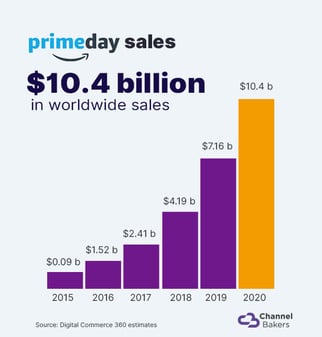 4. Amazon pushed Prime Day back to October 13th-14th, kicking off the holiday season and generating $10.4 billion in worldwide sales for Amazon, up 45.2% from last year's event
5. Amazon invested $2B in Climate Pledge, aiding their goal of getting the company to "net zero" carbon emissions by 2040
6. Amazon announced that it now has 150MM Prime Members worldwide with 126MM in the US
7. Amazon bought the self-driving car company Zoox for $1.2B
8. Amazon entered the pharmaceutical industry with Amazon Pharmacy enabling the tech giant to fulfill prescriptions and ship medications two years after their PillPack acquisition for $753MM
9. Amazon Amazon bought Wondery, a podcast production studio, to increase their streaming reach
10. Amazon bought a stake in UK digital supply chain startup Beacon to improve international trade logistics
11. Amazon started offering free VAT registration to automate VAT across the EU
12. Whole Foods announced one-hour grocery pickup at all stores
13. Amazon opened its first Amazon Fresh store in Woodland Hills, followed by 2 more across California
14. Amazon's hardware sales event in September announced the new gaming platform called Luna, a Ring home drone security cam, an updated Echo line, and more
15. Amazon sellers in the US are now required to list their names and addresses, which aims to cut down on bad actors
16. Amazon launched a program to pay consumers for their data on non-Amazon purchases
17. Amazon had a successful fashion summer sale in June to jumpstart sales after the "essential items" focus
18. Amazon launched "Made for You" T-shirts that use a virtual body double from the user's photos to create custom, build-to-size clothing, foreshadowing a try-before-you-buy AI tool that is in development
To Wrap Up
This past year was one that required resilience, adaptability, and quick-thinking. Amazon was able to pivot and change their entire year's projected plans to accommodate a world in quarantine.
From hiring 175k essential workers to creating a pharmacy arm that fulfills prescriptions, Amazon took 2020 in stride and kept us all just two days away from whatever we needed to get through another day.
We're always looking to add value to everyone we meet, so whether you're a company looking for the biggest updates, an avid student of the industry, or a brand looking for opportunities to maximize your sales, spend efficiency, or overall Amazon knowledge, we hope this recap brought you some insight and inspiration for the year ahead.
If you want to learn more about how these Amazon innovations can be leveraged to #GrowTheDough for your products, please don't hesitate to contact our team at: growthedough@channelbakers.com and bookmark our blog page for more real-time updates.