[Read Time: 7 Minutes]
2020 changed so many things about our lives: the way we communicate, the way we work, and also, the way we shop. Our research shows that 70% of participants stated they've increased their online shopping up to 40% during the pandemic.
But like the many historic events of 2020, going online wasn't the only disruption to our collective shopper behavior. Here are some of the most impactful changes that consumers made when looking to spend money last year.
Bulk Buying for Your Bottom
Ahh the neverending jokes about toilet paper that will come out of this pandemic. It goes to show that even though people were literally stocking their bunkers, our society can still find time for a nice poop joke.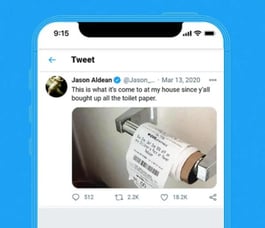 People weren't just stockpiling on TP though. They were bulk buying sanitizing supplies like hand sanitizer, masks, disinfecting wipes, and isopropyl alcohol. The Cask+Mate mask even came in as the #2 most purchased item on Prime Day, just behind the Airpods Pro.
Statista ran a study to see what shopper behaviors increased and found that an overwhelming 44% of grocery shoppers stocked up on household essentials. This was evident whenever you went into the bread aisle and saw a lone loaf of Ezekiel bread and a tumbleweed roll by.
Shoppers also took the opportunity at home to start cooking healthy. Vegetables consistently hit double-digit sales growth from March to September. Immunity boosters also saw huge numbers like Oranges gaining a 56.4% YOY dollar growth while products like watercress, ginger, and lemons had their day in the sun too.
Curiously enough, big ticket items weren't necessarily put on pause. From a survey of 1000 respondents, we found that 49% still made big purchases on items like a TV, PS5, or even a refrigerator. And even more shocking, 71% said they went for the premium brand rather than the value brand.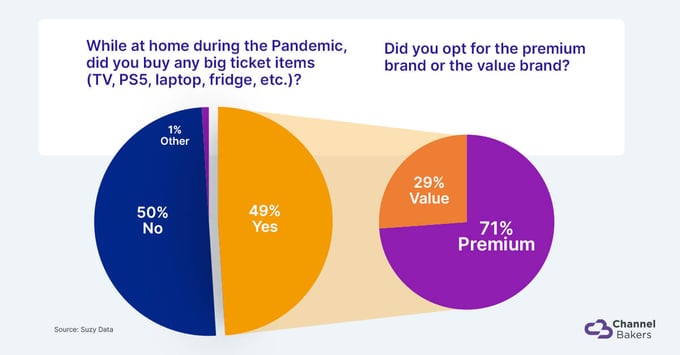 However, all these purchases weren't enough to consistently stimulate brick-and-mortar foot traffic. This could be because customers simply were buying bulk instead of their weekly grocery shopping trips, but we think it's because of another trend that took place.
The Age of eCommerce
The shift to online shopping in 2020 was expected to have advanced 5 years past its projections! And this influx of digitally savvy shoppers didn't just come from the TikTok generation.
From February to March, the number of baby boomers shopping online went from 8% to 23% and then up to 45% in June, according to the National Retail Federation (NRF). And that number is expected to hit 62.1% when all the data is wrapped up for the year.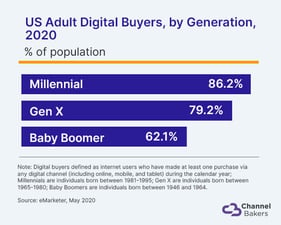 This is most likely due to the fact that the coronavirus is most deadly to the elderly, causing them to stay indoors and connect to the outside world via their phones and computers. For them, shopping in a store has the potential to be fatal, but clicking a button? That's easy enough to do from the comfort of a La-Z Boy.
This demographic is also a large contributor to the 60% of people who tried a new form of shopping in the past year. Whether it be a delivery service like Instacart or the new(-ish) trend of Buy Online Pickup In-Store (aka BOPIS, or Click-and-Collect), there might be quite a few baby boomers that aren't afraid to put their credit card on the interwebs anymore.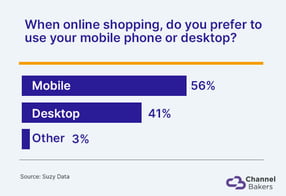 We also wanted to find out if people were mainly shopping on mobile or desktop for their online shopping needs and we found that 56% were joining in the mCommerce (mobile commerce) movement, which was more than expected.
But where are they shopping exactly? We asked 1000 people which of the following retail eCommerce sites is where they do most of their online shopping. Here are the results.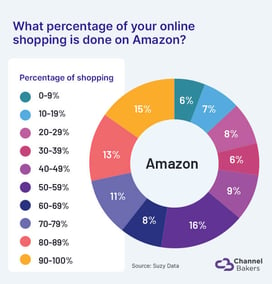 Amazon still came out on top, as expected, with 15% of people doing 90%-100% of their online shopping there. It's also worth noting that 63% of the 1,000 people we surveyed stated that they do more than half of their online shopping on Amazon.
Walmart.com came in second with only 2%, followed by Target and Costco with 1% each. Amazon also over-indexed in all other categories.
This could be a large reason why 53% of product searches online are started on Amazon.com. But what else is driving people to add items to their virtual shopping carts?
The Social Revolution
Twitch has seen an especially strong boost during the pandemic with growth of 26.2% in 2020 to 41.5 million users.
Partnering with its parent company via Amazon Prime Video, Twitch also launched Watch Parties as well. Streamers could watch TV shows and movies with their followers for an interactive experience. This brought advertisers flocking to the streaming site to push shoppers back to their products.
It also helped brands connect to their audience when musical artists put on full concerts via Twitch, which brought the number of hours spent streaming music and performing arts content on Twitch to 17.6 million, up 387% YoY.
With TikTok joining the 1 billion users club, it's officially primed to become a money-making machine for retailers and brands alike.
Facebook and Instagram have already incorporated shops into their platforms and now the dance challenge, recipe hacking, sea shanty vessel platform, TikTok has added Shopify to their partner list, enabling them to sell directly on-app to all TikTokers.
eMarketer found that 167.8 million people will have used their mobile device to make an online purchase and we can't help but think that some of them aren't even leaving their favorite social media app to do so.
This is especially valid during the pandemic, where online shoppers who've used social media to shop rose from 27% to 35% and that it just continues to grow.
Plus, influencers are called that for a reason: because they influence their followers by promoting brands that they're demographic aligns with. It's a tried-and-true method that agencies like ours are excited to offer.
And yes, we are an eCommerce and Advertising agency first, but have you seen the rise of influencer marketing on Amazon? The past Prime Day was a great example of leveraging influencers to reach their audience with deals and now they can even sell on Amazon Live, akin to a QVC for a younger generation.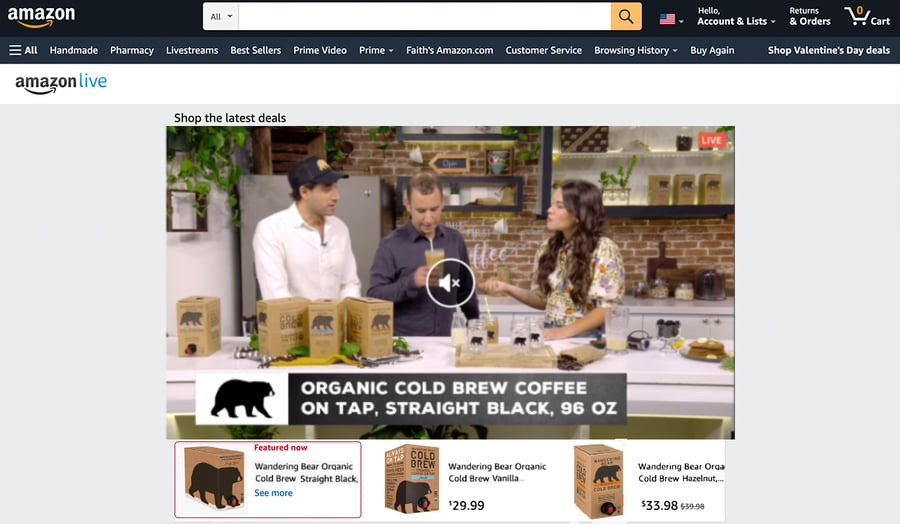 This trend of social selling isn't going anywhere and we're quickly adapting and building to meet the demand for our clients.
Something you might have missed is Twitch
It's rumored that Amazon is going to spend millions in advertising to heavily promote their Twitch streaming platform as the new norm for all things Live streaming. From virtual concerts (even virtual rave-a-thons), to Live fitness classes, cooking shows, and more.
What this means for brands, is that Twitch is going to be a whole new way to engage people in real-time through Twitch online video ads that play just before a streamer goes live, and that's just one ad product for brands to leverage.
To Wrap Up
2020 changed the way we look at many things, especially the grocery store. The pandemic was a catalyst for digital shopping experiences for everyone, including baby boomers, and we've all transitioned to making eCommerce the new normal.
It started out with bulk buying medical supplies and household goods, but now shoppers are focusing on healthy foods and sustainable products.
Another shopper behavior trend we see gaining steam is the increase of social media commerce. Influencers are promoting products, and followers are buying, which is just the start of the next shopping revolution.
We're keeping our finger on the pulse of 2021 to see how these trends will continue because they've already gained too much momentum to slow down now.
If you want to learn more about how to leverage shopper behavior to #GrowTheDough for your products, please don't hesitate to contact our team at: growthedough@channelbakers.com and bookmark our blog page for more real-time updates.