[Read Time: 7 Minutes]
2020 was a year unlike any other. Even baby boomers who were once afraid to put their credit card on the interwebs are shopping online coming out of 2020. Retail eCommerce sales grew 27.6% worldwide to the tune of $4.28 trillion in 2020, according to eMarketer.
But all this growth came alongside other significant changes in retail. Let's break down some of the most impactful changes that this industry encountered in the year that had us all adapting, adjusting, and executing new strategies just to keep up.
Essential Items Became Every Item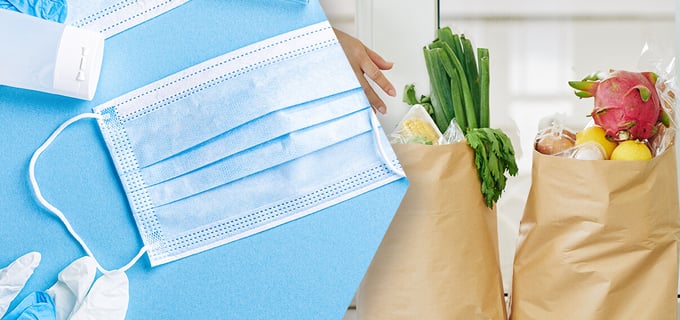 In March, lockdown was initiated in the United States, which meant that businesses had to close their doors to all patrons. Foot traffic was traded for site visits and even suppliers were limited on their ability to produce.
Amazon proved they were no exception to this new normal when they announced on March 17th that they'd be limiting their shipping to essential items such as household necessities and medical supplies.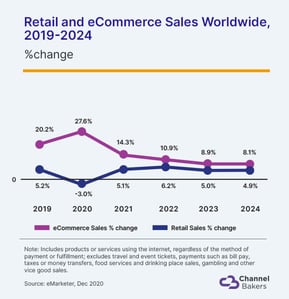 This was expected to last until April 5th, but the focus on essentials carried on for another 60-days in some categories. Eventually, Amazon started to allow brands and sellers to restock non-essential items again in late May and then the floodgates opened.
Rather than rushing to the store to stock up on toilet paper, consumers began buying literally everything they needed. Pet supplies and home and garden were the most purchased categories, holding down a 60% and 52% increase in online sales respectively. Fashion saw a 4% decline, which might be because no one really is wearing pants on their Zoom meetings.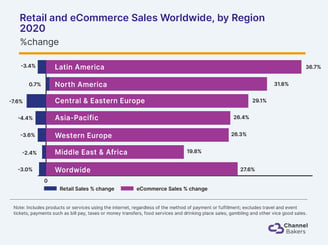 Whether it was due to safety concerns or because we're all working/shopping from home, the eCommerce industry saw an astronomical boom. Worldwide, eCommerce sales grew 27.6% in the year, for a total of $4.28 trillion. That's with a T. But while eCommerce saw a huge boost, retail in general saw a decline of 3%.
This could be the result of an increase in unemployment leading to less discretionary funds, or just a general sense of frugality during the pandemic.
Regionally, Latin America saw the largest growth in online sales of 36.7%, despite suffering worse-than-average declines in overall retail sales of -3.4%.
Europe was around the middle of the pack on eCommerce growth at 27.7% average, but dropped further than most with a -5.6% retail loss.
North America saw the second biggest increase with a 31.8% boost in eCommerce and was the only region to post a positive lift in total retail of 0.7%.
This massive rise is considered to have accelerated the shift to eCommerce by 5 years! Events like Prime Day had a considerable boost, seeing $10.4 billion worth of goods sell on Prime Day, up 45.2% from $7.16 billion in 2019.
Plus, third-party sellers saw huge success on Prime Day with 60% growth YOY, generating $3.5B worldwide. Amazon even claimed that Prime Day was the "two biggest days ever for small and medium businesses in Amazon's stores."
So, with all of this increased engagement online, how did brick-and-mortars respond?
The Newest Retail Craze: Click-and-Collect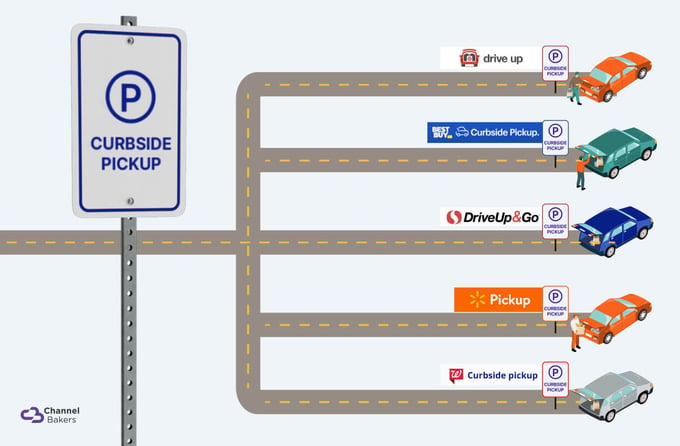 Click-and-Collect has been around for some time now. In fact, Target has been offering in-store pickup since 2013 and curbside joined their retail roster in 2017. However, the pandemic has brought this offering front-and-center.
But they're not the only ones adopting this practice. Walmart, Kroger, Albertsons, and others have jumped on the drive-up bandwagon. Affectionately named BOPIS (or Buy Online Pickup In-Store), this new form of commerce became a saving grace for struggling brick-and-mortar stores in 2020.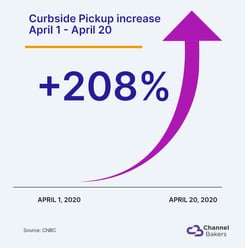 This led to an overall surge of 208% for curbside pickup in April compared with a year ago, according to Adobe Analytics.
Of course, delivery has seen its fair share of the pie too. Instacart grew its customer base 10x in just a few weeks. However, delivery apps have charges of their own, which eat into that profit retailers need to survive.
Click-and-Collect really ramped up this past year, but with about 68% of shoppers saying they'll keep using it after the pandemic, we're betting it's here to stay. Inventions are usually made to ease the life of its user and this invention just took one (or maybe a few) steps out of the grocery shopping experience.
Whether it's happening all online or online first, then in-store, what are the consequences of these new movements in shopping? Logistically speaking, logistics are being buried.
The Era of Returns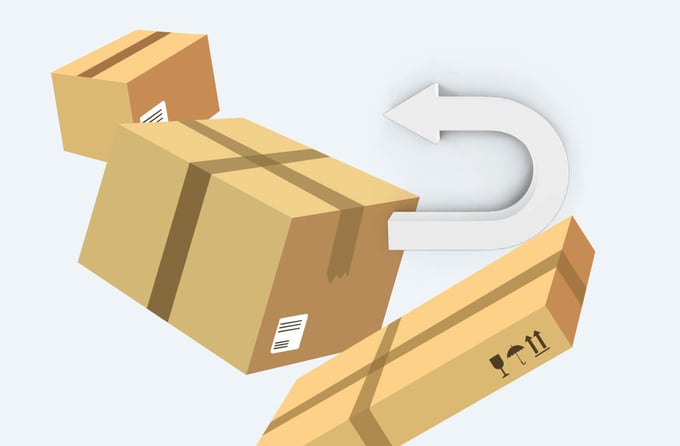 We've all done it. You buy a shirt online in two sizes and return the size that doesn't fit perfectly or you order something on Black Friday and realize later that it's a waste of space so you send it back.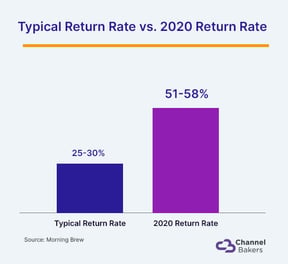 Well imagine those instances multiplied by a billion. That's right, billions of dollars of products are being returned via online shopping. It's expected that $70.5 billion in returns will be processed from the holiday season alone.
Return rates typically hover around 25%-30%, but with eCommerce taking over the world's shopping carts, returns have risen 70% year over year from 2019 to 2020, which puts return rates to almost 50% of products bought at retail or online being returned.
There could be many reasons for this rise, but shopping online seems to be the main culprit. People can't see and feel exactly what they're buying, so they get disappointed when it arrives and decide to return.
Also, it's just easier to return something when you don't have to face a real human being.
However, many stores count on you returning on location so that they can get another opportunity to make money off of you. Kohl's does a great job of this by offering to return Amazon purchases for you, and they conveniently place the Amazon returns stand in an obscure location that takes you right past their shiniest jewelry.
There's even a term for the act of buying clothes online in multiple sizes and colors and returning which ones you don't like. It's called bracketing and I've definitely done it a few times because, what's the harm?
Well, the harm is that we could be truly damaging our environment. eCommerce returns generated 5 billion tons of waste from shipping, not to mention all of the carbon dioxide from unnecessary trips back to the warehouse.
And with Amazon's returns topping $428 billion, this can put a dent in their Climate Pledge initiative. Reverse logistics are the name of the game and if anyone can figure out how to optimize them, it's Amazon.
For now, companies like Amazon and Walmart have begun using AI to determine if a return is even worth it. Each item can cost $10-$20 to return, so if they can't resell a product or it's cheaper than the cost of shipping, these etailers have started to just forgo the return and pay people back.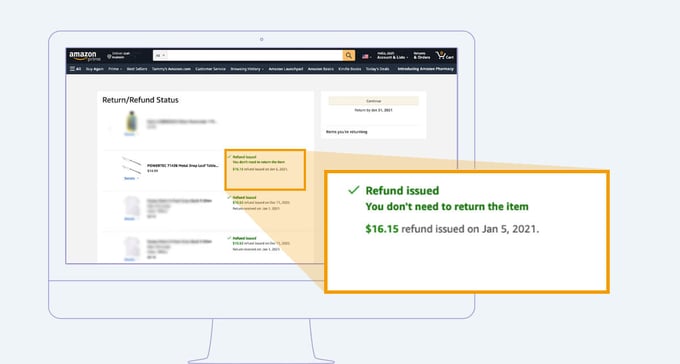 This recently happened to me when I tried to return a pair of chairs to Wayfair that were damaged in transit. I clicked return, my money was sent back, and a notice popped up saying, "You don't need to return the item." and the same thing recently happened with Amazon as well.
Will refunds without a physical return be the norm? To what degree will the online furniture business be challenged by unscrupulous people who just want free furniture? That's one of those "Things that make you go hmmmmm!"
Just like everything else during this pandemic, companies are finding ways to adapt and overcome. It's a step in the right direction, but over-returning is something we also see sticking around now that people have found the convenience in it.
To Wrap Up
This past year was nothing short of historic, especially for eCommerce. Accelerating the shift to eCommerce by 5 years is the outcome of a world that spends all day inside and online.
2020 had every business scrambling to find ways to appease their digital consumers, while some were further ahead than others. Click-and-collect (or BOPIS) became the norm for big box brands and mom and pops alike. Returns flooded into warehouses all over the world and we discovered that living remote is possible if we really put our minds to it.
We're excited to see what this massive amount of growth will bring eCommerce going forward.
If you want to learn more about how to navigate these changes in the eCommerce world and #GrowTheDough for your products, please don't hesitate to contact our Client Success team at growthedough@channelbakers.com and bookmark our blog page for more real-time updates.