How has COVID-19 affected your shopping behavior?
We know that Americans have shifted their shopping behaviors drastically in the past few weeks due to the COVID-19 Coronavirus pandemic. However, we wanted to put some quantitative data behind one of those shopping behavior narratives, "Everyone is shopping online now".
There's a lot to unpack in that statement so we decided to survey thousands of U.S. shoppers from around the country to get quantitative data that will help us all identify some new shopping patterns within the past 8 weeks.
We knew people were shopping online more but to what extent? Here's what we learned.
45% of the respondents stated that they have increased their online shopping by 10-20% with another 26% stating that their online shopping has increased by 20%-40% since the start of the COVID-19 pandemic this past February.
That's 71% of participants stating that they've increased their online shopping up to 40% in the past 8 weeks. The other 29% stated they've increased their online shopping by more than 40% with 11% stating that they've increased their online shopping by more than 60% which is closer to the number we were expecting.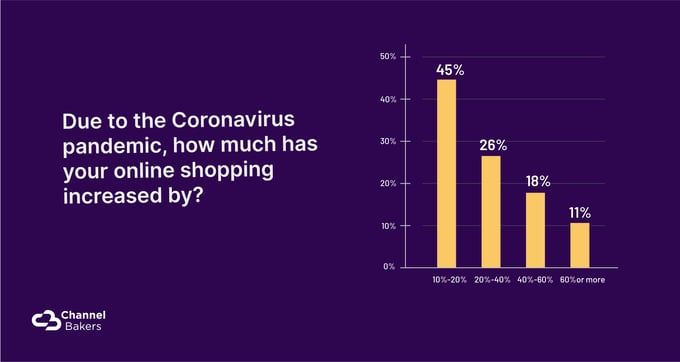 Average Order Value
The next question that naturally comes to mind is "how much are they spending on average per order they place online?". 79% of the respondents stated that they are now spending up to $100 per order with 21% stating that they are spending over $100 per order.
We often joke around the office that "you can't escape Costco without spending at least $200 with each visit" well it seems the internet retail landscape is beginning to see the same shopping experience with 7% of respondents stating that they have spent over $200 on average per online order in the past 8 weeks.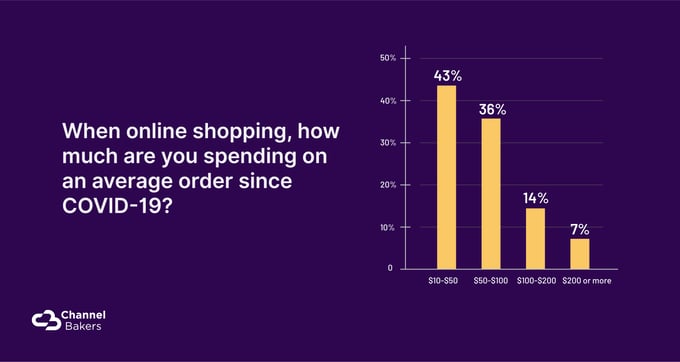 Most shopped category of products
It's easy to assume that grocery is going to be the clear winner when asking the question "what have you spent your money on since the COVID-19 pandemic" but we wanted to know what percent of their increased online shopping was spent on grocery versus home entertainment or fashion & apparel.
From our poll, grocery made up 42% of the online purchases people have been making in the past 8 weeks, but it was interesting to see that apparel and home entertainment were very close.
We expected apparel to be less than 5% of the purchases, but to our surprise 12% of respondents stated that they are still spending on apparel despite being indoors with nowhere to go to show off their new outfits! Home entertainment, meaning Televisions, soundbars, streaming devices, etc was just slightly ahead of apparel at 15% which is to be expected with more people wanting an upgrade or needing another television for their house while binge watching Netflix, Hulu, Amazon Prime, etc.
It goes without saying that Health & Beauty would come in second place with 20% of shoppers purchasing products like Vitamin C, Elderberry, and Echinacea supplements, as well as the very popular Essential Oils to stay healthy defending against COVID-19.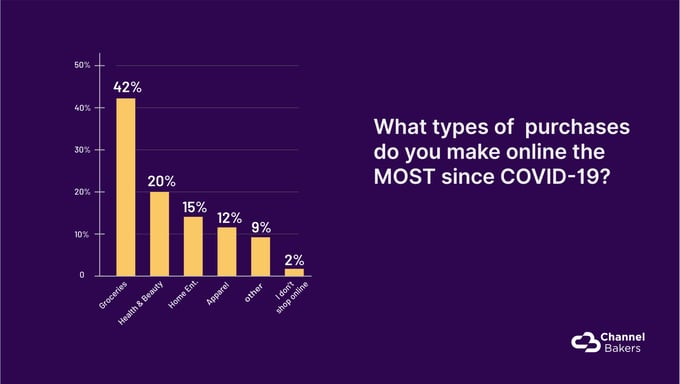 Intraday Online Shopping Frequency
Now with Amazon Prime as well as Target with their Drive Up program, and Walmart with their pickup program, it's much easier to place multiple orders per day, especially when we've forgotten to add something to the cart.
To measure the frequency of online shopping we asked shoppers "how many times per day do you go shopping online?". We were surprised to see that 10% of shoppers go online to shop more than 4 times per day with the other 90% going online to shop at least once per day.
Where are people shopping now?
Of course, the question that had the most responses was "which online retailer have you shopped online with the most since COVID-19?". Rather than create a simple poll surrounding the percentage of people who shop at one retailer's website/App or another, we wanted to see what percentage of shopping is done at each retailer's website or app independent of the others.
The next set of charts are going to breakdown the percentage of shopping done at each retailer's site or app since COVID-19. It will be interesting to keep an eye on what percentage of respondents state that they do at least 50% of their shopping at a specific retailer's website or app. For example, we were surprised to see that Walmart.com had 10% of respondents stating they do 50-59% of their shopping with Walmart.com and looking at Amazon's chart we see the shoppers that do 50-59% of their shopping with Amazon at 11% of respondents.
Amazon.com
While only 11% of respondents state that they do 50-59% of their online shopping on Amazon.com, it's important to note that if you add up the percentages of people who do more than 50% of their shopping on Amazon, we get a total of 53% of respondents having stated that they do more than half of their shopping on Amazon.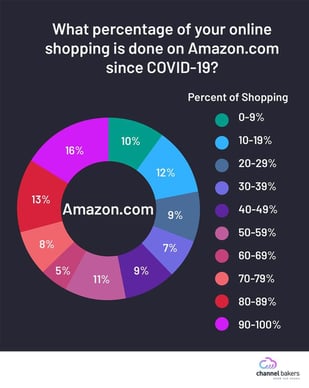 To put that into perspective, there were only 13% of respondents that stated they've spent 50% or more on Target.com with only 6% of respondents in the group that has shopped 50-59% at Target.com in the past 8 weeks.
The inverse of that conversation shows that Amazon has the lowest percentage of respondents stating that they only shop on Amazon from 0% up to 10% but if you look at Costco.com, 59% of respondents stated they only shop from 0% up to 10% on Costco.com.
Walmart.com
Walmart has invested billions into their eCommerce platform with a goal to compete with Amazon. Their efforts have included the acquisition of Jet.com for $3.3B in 2016, adding Pickup in-store as well as Grocery delivery, and launching a digital returns feature through it's app for both, in-store and online order, returns to be processed in-store.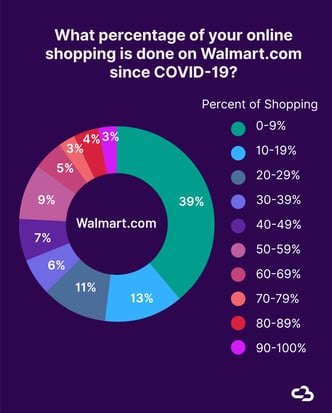 With COVID-19 and the "toilet paper crisis of 2020" (yeah…we think that phrase will catch on), it's no surprise that Walmart.com was poised to be the second most popular online retailer behind Amazon in the past 8 weeks.
As mentioned before, 27% of the respondents stated that they've done more than half of their shopping on Walmart.com. That's a very significant number considering that Walmart's site traffic was 1.21B visitors in Q4, 2019, which is roughly one-sixth that of Amazon who had 7.2B visitors during that same time according to SimilarWeb.com. That 27% could indicate that Walmart.com picked up quite a few first-time shoppers to their site, especially with Amazon being out of stock on a number of hot products like Toilet Paper.
Target.com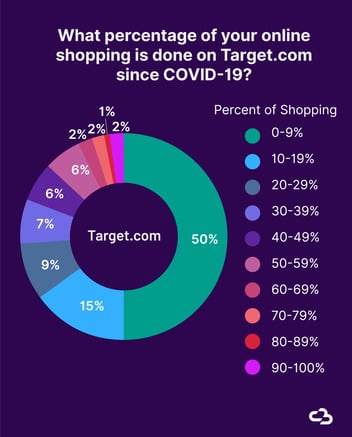 The good news for Target is that more than half of the respondents stated that they do shop 10% or more on Target's website and/or app. The other 50% of respondents who shop online at Target.com land somewhere between 0% to 9% since COVID-19 over the past 8 weeks. That's not too far off from Walmart.com who had 39% of respondents stating that they've done 0% to 9% of their shopping on Walmart's website and/or app. It is worth mentioning that 38% of respondents fell into the 10% to 49% of their shopping on Target.com.
With the improvements that Target has made to their online shopping experience, like their Drive Up program, it's no surprise that the other half of the respondents stated that they have, in fact, shopped on Target.com 10% or more during the COVID-19 pandemic.
Costco.com
Costco does have a warehouse pickup option for their online shoppers, but it's a very limited selection. There were only 10 product categories available for pickup with 5 out of the 10 being jewelry and a 6th with handbags. The other categories were Camera, Laptops, Smartwatches, and Tablets. There were only 918 products available for pickup and 769 of them were jewelry with Rings being the largest sku count at 448 products.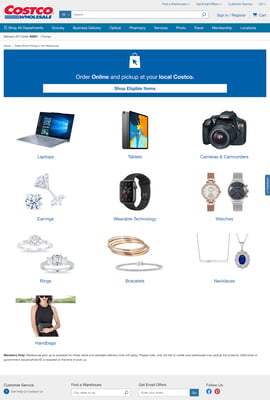 There's a lot of buzz about how much foot traffic has skyrocketed for Costco warehouse locations, but their online shopping experience has caused them to miss this massive shift in shopper behavior due to the Coronavirus. Some have argued that Costco.com doesn't need to catch up to Amazon, Walmart, or Target, because they have strong foot traffic with their gas stations to help maintain that foot traffic. We're not sure gas stations will keep the foot traffic coming as automakers like VW claiming that 40% of their vehicles will be electric by 2030. It makes sense that the time is now for Costco to get their online shopping experience on par with Target, Walmart, and Amazon, even if they still require membership for online purchases.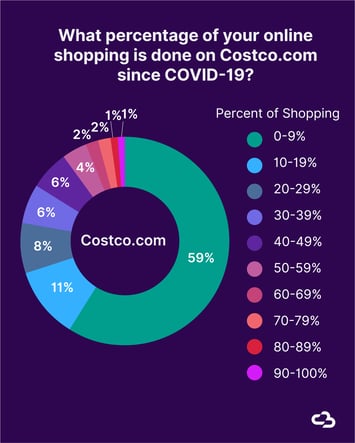 From this poll, we can see the audience that has frequently shopped (respondents who shop at each site at least 10% or more) at Costco.com since COVID-19 is only 41% of respondents.
If we look at the same chart above for Amazon.com, they have 90% of respondents stating they frequently shop on their website (again, respondents doing more than 10% of their shopping on each site).
When we look at the respondents who do not frequently shop on a retailer's website and/or app, Costco ended up with 59% of respondents stating they shop at Costco.com less than 10% while Amazon only had 10% of respondents stating they don't shop frequently on their website and/or app.
Again, Costco.com has some improvements to make with their online shopping experience. A good place to start would be to increase their assortment of products available for pickup.
Retail Advertising
As it relates to COVID-19, we've only seen a handful of clients pause some of their retail advertising. That's primarily due to supply chain challenges from overseas having slowed delivery rates to retailers. Now with the Essentials only purchase ordering at Amazon, we have a few clients that are shifting their strategies to stay top of mind while still protecting their branded keywords.
Based on the data below, 46% of respondents stated that they search for a brand or it's specific name or model number. All of those keywords need to be protected. During the spike in online retail site traffic you can expect to see the average cost per click (aCPC) for your own branded keywords increase as more of your competitors recognize the opportunity to conquest your brand. At minimum, it's critical and an absolute MUST to protect all of your branded keywords at each retailer, at all costs.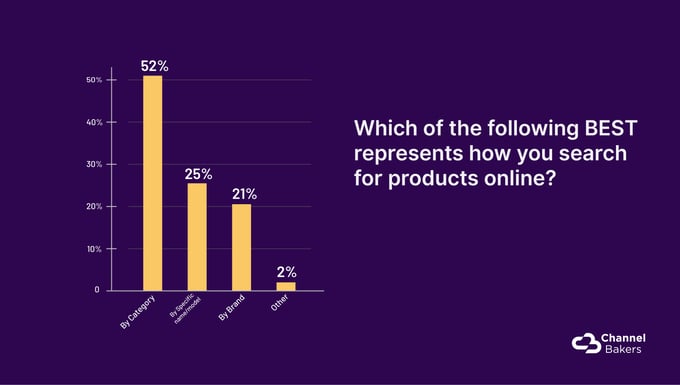 The other key factor to consider is what type of ads are resonating with shoppers today. People's levels of attention and patience are different today than they were before the CoronaVirus pandemic. The last thing we'd want to do is further frustrate and annoy people with irrelevant ads that aren't sensitive to the fact that many people are having a difficult time right now. With that said, we thought we'd ask our audience which type of ads resonate today, static, video, or animated with click-through rate being the primary KPI.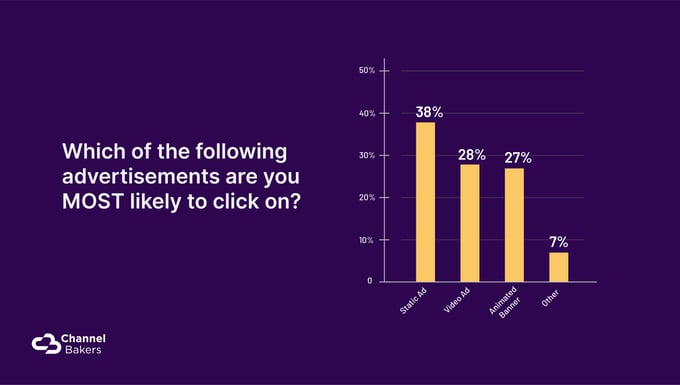 We were surprised to see that animated ads were neck and neck with video ads. In the past two years, across the board, video ads have been gaining steam with the 2020 projection to be upwards of $37B in 2020 according to Statista ( that's not including Amazon's Video in Sponsored Brands and their OTT offering)
From an ad spend trend standpoint, we have seen an increase in spend for our CPG and Consumer Electronics clients, especially those that sell items that Amazon considers essential like Pet Food, Vitamins/Supplements, Mice, Keyboards, Monitors, Wireless Headsets, and Noise-Canceling Earbuds, etc. Amazon is updating their "Essentials" list and bringing various products back into stock each week. One of our team members received toys for her son's Easter basket, which reminds us that Amazon's team cares a lot about people.
The brands with products that Amazon categorizes as essential are spending significantly more on Top of Funnel, Non-branded search terms, and doubling down on protecting their own branded search terms. They've also been spending on awareness and consideration tactics with Amazon's DSP, especially with Amazon's OTT advertising as more shoppers are at home during this COVID-19 pandemic are watching Prime Video content on their FireTV streaming devices.
Yes. There has been a decline in ad spend for those clients whose products are not considered essentials. Having said that, in order to keep their sales volume up, we have been busy launching thousands of new campaigns focusing on those products that are still in stock and those products that are beginning to come back into stock as China production is almost back to normal.
We also expect that spending on Walmart Performance Ads (WPA) will increase in 2020 with COVID-19 being the catalyst for that growth as CPG brand's sales are skyrocketing in their stores and Walmart.com.
Now that Amazon has shifted their warehouse receipts and purchase orders to suppliers for Essentials only, as well as pushing shopper order delivery dates out to end of April for Non-Essentials. It will be interesting to see how many people now turn to Walmart.com and Target.com who both have a pick-up in-store, or better yet, a Drive-up pick up option, to do their online shopping during this COVID-19 pandemic with a "Stay-at-home" order in place across most of the states across America.
There's no doubt, as the data has shown, that Amazon will still be the #1 destination for online shopping, but…will the CoronaVirus help Target.com and Walmart.com catch up in the race for America's online share of wallet?