A lot of new content came down the pipe at Amazon unBoxed 2022, but what caught our eye were the exciting new features for Sponsored Display ads—particularly new video creative.
Before we dive into that, let's get a refresher on Sponsored Display ads.
What is Amazon Sponsored Display?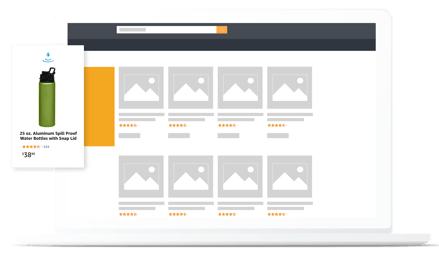 A Sponsored Display advertisement is one of Amazon's many different ad types available to sellers and vendors. This ad type usually appears as a product image and is relatively easy to implement for brands with large and small ad budgets.
What makes Sponsored Display ads unique, however, is that they can be showcased on or off Amazon. Plus, since this display ad doesn't operate off of tracking keywords but rather audience interest and shopping behaviors, Sponsored Display ads can reach audiences at any point in their shopper journey.
Basically, Sponsored Display ads "follow" a potential client across Amazon.com, competitor listing, and other third-party apps, re-engaging their original interest in the product. Amazon calls this nifty feature sponsored display contextual targeting.
This type of targeting is very effective, especially in reaching customers who have yet to purchase your product. Amazon internal data found that advertisers utilizing Sponsored Display ads saw up to 82% of their sales driven by new-to-brand customers.


Video is a powerful advertising tool, and Amazon Ads knows it.
New Video Creative Options for Amazon Sponsored Display Ads
Remember earlier when we said that Sponsored Displays usually have a product image? Well, now Sponsored Displays can feature video creative.
Advertisers are now able to serve engaging and imaginative video ads where they would have originally only displayed an image of their product. Anything from demos to testimonials is fair game to catch the eye of your target audience.
Recall that this is still a Sponsored Display ad format, meaning brands can continue the conversation with potential customers by retargeting them across the Amazon website and beyond. Only this time, instead of images its highly immersive videos designed to delight and impact the already interested shopper.
What if I Don't Have Video Assets?
While the ability to use video creative for Sponsored Display advertisements is an empowering move for smaller businesses, creating video assets is still an issue. Do brands have a dedicated team to film and edit video content? Do they even have the bandwidth on top of their prime business directives?
Sensing this problem, Amazon designed a video builder engine called "Video Creative Builder" with the intent of helping brands develop video assets. However, this engine is super rudimentary, and while it's a great place to start if you need video assets, you can't do much with it yet. Here's a clip showcasing some of the video builder's (limited) features:

Brands can't count on this engine forever. New creative is vital to keeping campaigns fresh and viable. The best place to turn would be to the pros: If brands don't have the resources to create their own video assets, agencies with in-house creative capabilities are the safest and smartest choice.
A great place to look for expert help would be Amazon's partner directory, particularly the Amazon Ads Advanced Partners at the top of the list.
Final Thoughts on Sponsored Display Video Creative
Sponsored Display ads are a wonderful tool and a powerful addition to any brand's awareness or year-round campaigns.
If you want to start utilizing this ad type or want some pointers to improve your Amazon marketing posture, we'd love to connect with you! And if you want to learn more about the power of video in modern marketing, our video production page is a great place to start.


Sources:
Wyzowl, The State of Video Marketing, US, 2022

Insivia, US, 2017

IAB, U.S., May 2022