Digital Video has become the fastest growing digital medium, with an incremental increase of $3.59B in ad spending. And no, it's not just because the COVID-era has turned the world virtual. It's due to a shift in where digital viewers are consuming content.
For instance, did you know that 17% of digital video viewers watch through Twitch? Of course you did! But just in case you didn't, we'll break down just what Twitch is and how to capitalize on its unique offering. (Hint: It's not just for gamers.)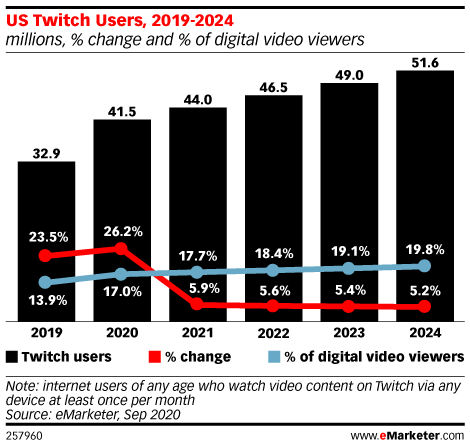 What is Twitch?
in 2011, Twitch has grown from a small streaming platform to hosting 1.6M viewers at any given time. That's 10% more than MSNBC and CNN's reported daily total viewers.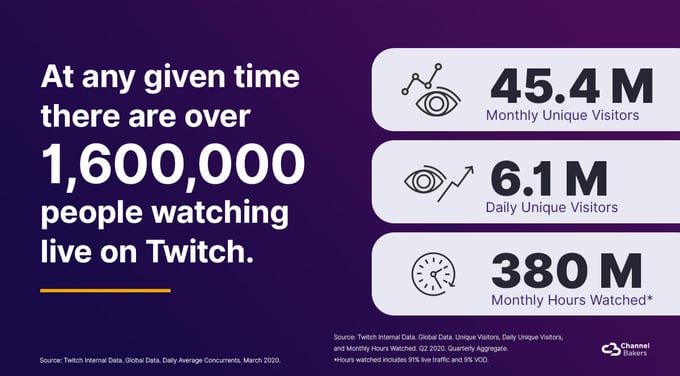 But before we go any further, let's define "streaming." It's the bread and butter of Twitch and the entire reason why viewers spend an average of 1.5 hours daily on the site.
"Streaming" is where broadcasters live record themselves performing an activity while simultaneously engaging their viewers in conversation. For the vast majority of Twitch streamers, this means it showcases their skills on popular video games like League of Legends, Fortnite, and PUBG.
But if there's anything we've learned from Youtube, it's that if you give the people a platform, they'll turn it into a content creation universe. These days, Twitch hosts channels for cooking shows, live sports commentary, and lifestyle pieces.
This open platform has also only grown stronger after Amazon acquired it in 2014. In fact, it was just announced that Twitch's live streaming functionality will be incorporated into the Amazon Music app, enabling fans to engage with artists in brand-new ways and move seamlessly between live streams and recorded music.
This comes at a perfect time when artists are streaming live concerts more than ever, bringing a completely new audience to Twitch. According to ComScore, Twitch's viewers are 81.5% Male and 56% are 18-34 years old.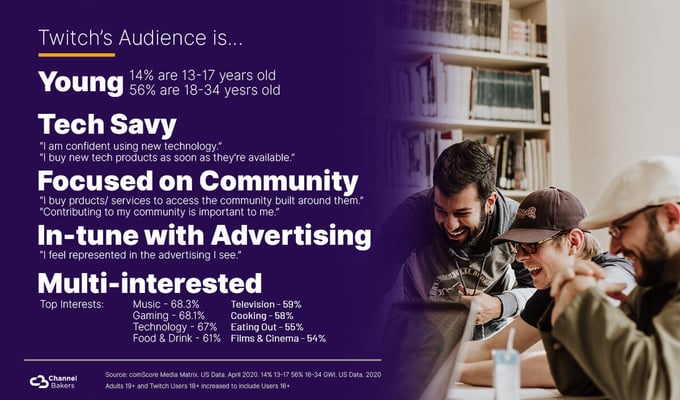 This new music offering could bring a shift in their unique visitors. That now opens up a whole new conversation about what kind of brands should be on Twitch to capture this audience.
Your Brand x Twitch
Is your brand right for Twitch?
It's obvious that Gaming Hardware like headsets, keyboards, and mice would be the best advertisers for Twitch, but when we look at Twitch's demographic, and this new music audience that's expected to shift towards Twitch, your products may be more relevant than you'd originally thought.
For example, standing desk brands have a real opportunity to educate the Twitch audience on how their product can improve their physical and emotional health.
Energy drinks have always been a gamer favorite, but Twitch's move into the lifestyle genre has brought along fitness gurus from other social platforms like Instagram. Everything from yoga brands to healthy snacks also have an opportunity to thrive here. And we can't think of a place you can't promote hand sanitizer these days, too.
Advertising on Twitch
So, how do you promote your brand in an authentic way on Twitch?
Brands have been known to partner with notable streamers for a sponsored, one-time stream. These can include anything from playing a new game to giving viewers the chance to win chicken dinners by commenting in the chat. Yes…that was KFC.
Before you start developing your Twitch streamer sponsorship strategy, you'll need to find the right streamer who resonates with your brand's audience. Using tools like Twitchtracker can give you the data and analytics you need to decide what streamer to partner with and where to place your ads.
And with 82% of viewers saying that sponsorships are good for the gaming community, this might be the perfect place for your brand to get the best return on your advertising spend.
However, streamer sponsorships shouldn't be the only strategy for getting in front of their savvy audience. Did you know you can implement Display advertising as well? You can absolutely send your digital video ads and static display banners if you don't want to fully invest in the influencer route.
We at Channel Bakers can get you up to speed on Twitch and help you leverage the fastest growing digital platform. Contact us today to grow your brand!