Imagine you walk into your local pharmacy to pick up your medication and you spot that phone charger you need for your car. Plus, a bag of Flamin' Hot Cheetos sounds pretty good. Next thing you know, you're paying for a basket full of small items when you just came in to grab some meds.
This is a huge driver for pharmacy stores like CVS, with retail sales making up around 30% of its business to the tune of $74B. Now, flip that formula on its head where you can shop for everything you want instantaneously…plus fill your prescriptions online. Welcome to Amazon Pharmacy – the next worldwide disruptor on Amazon's roster.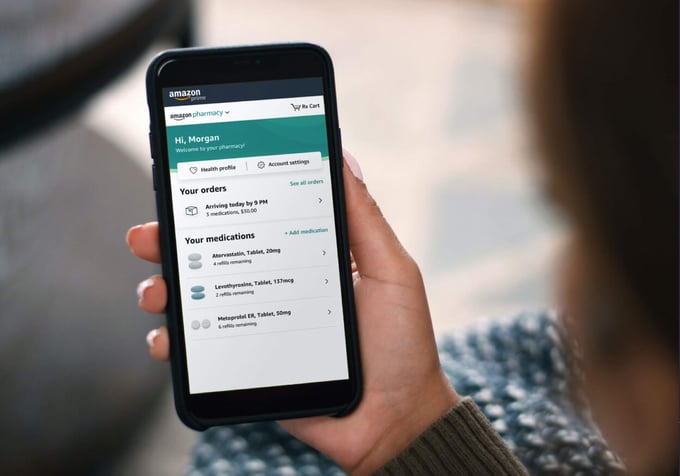 Prescriptions on Prime
After buying PillPack in 2018 for $753MM, people were questioning what Amazon was going to do with a company that delivers monthly medications. Well, they just answered those questions with Amazon Pharmacy – an online platform to fill prescriptions and order medications.
Customers will be able to send their prescriptions directly to Amazon.com, which accepts most insurances, but also provides a discount to Prime members of up to 80% off generic and 40% off brand name medications when paying without insurance.
And yes, Primers will get that famous 2-day (maybe one-day?) shipping too.
PillPack gave Amazon license to operate a pharmacy in almost every state, which not only helps in America but also countries abroad like Germany that require a pharmacy license to even sell OTC drugs.
For brands like Sanofi, this could mean a huge opportunity has just presented itself where they can now finally sell products beyond their OTC lines.
Plus, Amazon has hired licensed members to be available (delete) to answer questions 24/7, just like at your local pharmacy. But luckily, they won't make you sit in a plastic chair playing with the blood pressure machine for 15 minutes.
This move has definitely had some ripple effects in the healthcare industry, too. Due to Amazon's new ability to provide price matching on medication, GoodRx's stock price dropped 22.5% the day of the announcement.
Convenience pharmacies like CVS and Walgreens also saw slight stock price dips as well. And we've even heard some new radio ads announcing steep discounts from CVS trying to bring in new customers.
But the same thing happened with the Whole Foods purchase back in 2017 – other brands smelled trouble and ramped up their efforts in response. Walmart added more grocery pickup stations, Costco launched its own same-day delivery, and Target bought delivery app Shipt.
This didn't seem to completely upend the grocery industry. So, could Amazon really succeed in this new pharmacy space?
Amazon Has a Track Record of Winning (Almost) Anywhere
This is what Amazon does. They analyze verticals to see how they can beat the competition and then they jump right in.
We just haven't seen them attack something this big since Amazon Web Services (AWS). And currently AWS holds a large majority of the top 100 sites' cloud computing, so it looks like that was a solid move on their part.
Let's go back to one aspect of Amazon Pharmacy's offering: They allow competitive pricing for customers without insurance. And sometimes, the Prime price is the best price for prescription medications. Sound familiar?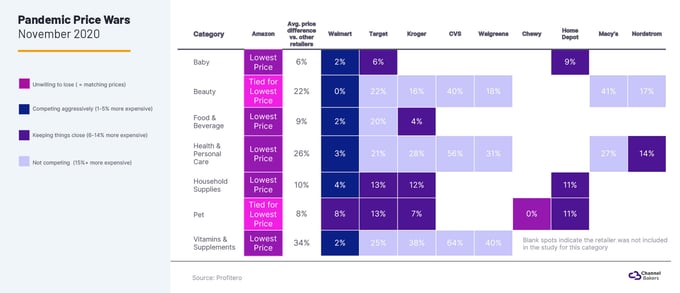 Amazon does this with every industry, just look at AmazonBasics. And now they can even win adjacent customers as well as those looking for pharmaceuticals based on pricing and offerings.
This move could also help them win the 31% of customers aged 55+ shopping online more due to the pandemic, providing them a place to get their meds at competitive pricing that Medicaid can't even compete with (or cover for that matter).
But winning the customer on pricing is just the first step. According to Sarah LaVallee, our VP of Client Success…
"This is just the gateway drug to the larger medical industry (pun obviously intended)."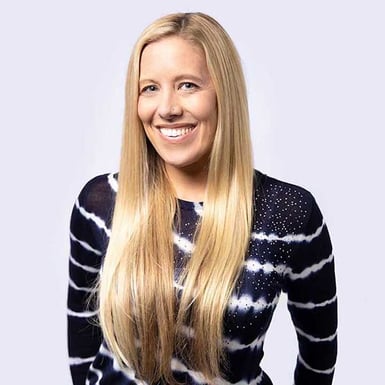 So what is Amazon really up to?
What's the Gameplan?
As with every other industry Amazon has invested in, just selling a few extra products here and there is not the end goal.
They bought Twitch to take over the gaming AND streaming markets. They bought Ring and Blink to become completely integrated into their customers homes. And now they can sell prescription medications online.
So here are a few of our predictions of what Amazon Pharmacy will lead to, rated from least to most bold:
(Least Bold) Amazon will deliver medications that require refrigeration on their trucks.
What if Amazon built up their delivery trucks to be able to transport medicines that require cold temperatures? They already refrigerate trucks enough to deliver AmazonFresh groceries, so it would just take a little more maintenance (and probably a lot of money, too).
(Bold-ish) Amazon will start opening pharmacies in brick-and-mortar stores.
Look out for pharmacies in Whole Foods and Amazon Fresh Stores pretty soon. They already have the locations, which would allow them to not only battle CVS and Walgreens online but also in the brick-and-mortar landscape.
(Getting Bolder) Amazon will deliver medications via drone.
UPS and CVS recently teamed up to deliver medications via drone in Florida. Automated delivery is a technology that Amazon has been developing since 2016, so if high-risk people don't want to leave the house, Amazon can just deliver through the air. Plus, Alexa already reminds you when to take your meds, so why wouldn't she automatically fly them to you too?
(Most Bold) Amazon is going to take over the healthcare industry.
Now that's an end goal. Amazon has been setting up for something of this caliber for a while now. Last year, they created Haven along with Berkshire Hathaway and JP Morgan to provide affordable and efficient healthcare services to their own employees.
This year, they released the Halo band, which is wearable technology that can track your physical health, sleep, and even stress levels through your voice.
And now Amazon can fulfill prescriptions online (not to mention sell their own brand of OTC products called Amazon Basic Care). All of these services bundled together with every other aspect of Amazon's product line will give them the perfect look into a customer's health.
Creating Amazon Insurance would be the perfect end solution to drive to. Everything would be housed online, plus Amazon's 24/7 service is leading the way for them to enable telemedicine.
Customers could even set up virtual meetups with an Amazon doctor, paid for by Amazon Insurance, who then writes a prescription that's automatically sent to Amazon.com, fulfilled, and shipped the same day on a truck with a smile on it. Hell, why not just call it Smile Insurance?
Wrap It Up
To sum up, convenience pharmacies like CVS are going to have to rethink their whole strategy to retain customers and insurance companies might even have to wise up too. Amazon has the infrastructure, digital capacity, and backing to be able to take on whatever industry they want.
After all, healthcare is an $8T industry while retail is just a measly $2.4T. So buckle up because this is just the beginning.