Only a short time ago, brands and sellers alike felt comfortable only selling on Amazon. The face of online shopping offered the best tent pole events, the largest audience, robust first-party data, and plenty of tools for advertisers to target new and familiar audiences. Today, however, is marked by retail media networks and brands selling/advertising across two, three, and even four sites at once.
Amazon's closest competitor in the digital retail space is easily Walmart. Walmart's investments in its digital store have been paying off with internal analytics revealing that up to 100 million unique users per month visit their dot com. Not only that, but the company's online growth is starting to outpace in-store growth. Online sales for Walmart worldwide in the 2022 fiscal year amounted to 66.3 billion U.S. dollars, an 11% increase from 2021's sales.1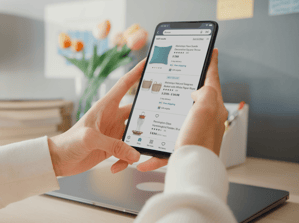 Increased traffic to Walmart.com is also organic. Inflation, success from tentpole events, and growing brand (and platform) agnosticism have shoppers chasing deals and new products wherever a friend or an influencer tells them to go.
Brands must buttress their current retail media networks by joining Walmart Connect and partnering with a Walmart advertising agency.
Below, we'll cover changing consumer behavior, why it's gotten so attractive to advertise on Walmart, and finally, cover the ad strategies to accelerate Walmart Marketplace sales in 2023.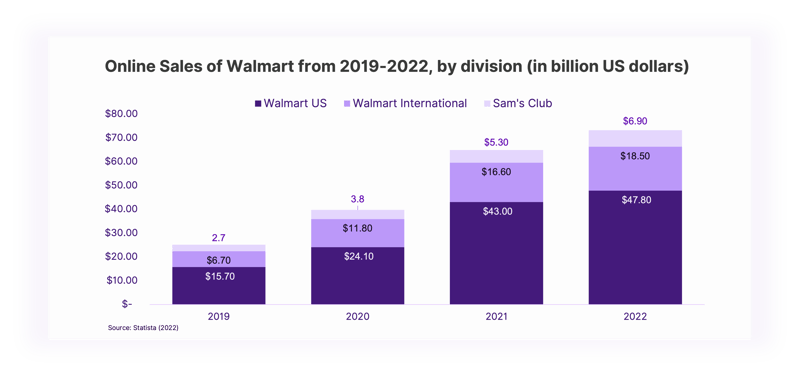 Brands and Sellers need to Adapt

It only makes sense that brands go where their shoppers are. And the way shoppers shop has changed in a major way in less than a decade. Here is a quick reminder of the key developments in shopper behavior:
Shopping online is ubiquitous in modern markets. An IPC shopper survey showed that nearly 80% of consumers shop online at least once a month.
The value of personalized shopping is greatly desired, with Epsilon research indicating that 80% of shoppers are more likely to purchase from brands that offer personalized experiences.
Brand agnosticism has never been higher, especially among Gen Z—79% of whom would be willing to switch to a competitor within a week of experiencing poor customer service, as per a Forbes report.
Finally, the shopper's journey has become far more complex. A recent Harvard Business Review Study found that 73% of U.S. shoppers use multiple channels during their shopping journey, maybe even more so during tentpole events like Prime Day and Walmart's Rollbacks and More.



The Rise of Walmart Advertising in Retail Media Networks



While Amazon still makes up 77% of the U.S. digital retail media net ad revenue, Walmart is the flat-out leader competing for second place.2 According to eMarketer, Walmart's share of ad revenue will more than double from 2019 to 2023. Walmart's ad revenues are also growing faster than Amazon's. In 2022, its ad revenue increased by 58% compared to Amazon's 30% growth. Not only that, but Walmart Marketplace grew faster than the next closest competitor Instacart.3

Beyond ad revenue growth, Walmart's return on ad spending (ROAS) impressively rose 82.95% year-over-year in Q2 2022. Walmart's ROAS for sponsored ads in that same quarter reached $4.83, beating out Instcart's $4.69 and Amazon's $4.59.3

Why the change-ups? Despite Amazon's hold on the share of ad spend, Walmart.com has proven itself to be equally valuable, or even more so, to advertisers. Here are the five reasons brands are (and should start) incorporating Walmart into their retail media portfolio:


1. Walmart's Audience is Gigantic
Walmart is the world's largest company by revenue and the second biggest retailer. Its reach is staggering—Walmart has the most brick-and-mortar stores of any retailer, with more than 10,50044 across the globe and a wild 5,34255 in the USA alone. Speaking of the USA, with inflation changing consumer behaviors, Walmart's average shopper profile now includes individuals from higher incomes and education levels. It is no understatement to say almost every American has shopped at Walmart.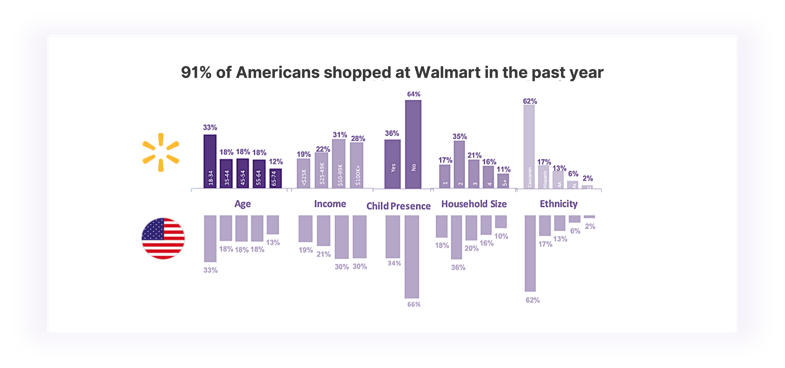 2. Low Price for Cost-Per-Clicks
The retail site has been transparent about the cost-per-click auction system. Walmart's so-called second price auction model takes into account ad relevance as well as bid price to determine which advertiser wins the placement. What has made advertisers very happy is that this system works to lower costs per click since the auction winner pays only the minimum needed to clear the second-highest bid.

3. Omnichannel Opportunities
Walmart Connect recently gave advertisers the ability to use CTV and video ad placements. These tried and true ad types can also be omnichannel, displayable in stores through self-checkout screens and on TV walls. Not only that, but brands can design offsite display ads too that meet customers on their favorite websites or while they scroll social media.

4. Access to First-Party Data
Not only did Walmart introduce more ad formats to advertisers, but it also improved the reach and relevance of sponsored ad listings. Search algorithms on the retail site can now account for factors such as customer intent, contextual relevance, and historical performance when determining placement. With third-party cookies disappearing, gathering first-party shopper data has never been more crucial for reaching your audience and understanding customer behavior.

5. The Endless Aisle
Walmart Marketplace's endless aisle is a dream for smaller brands. There are perhaps only 15 types of laptops available at a physical Walmart store, but 200 types available on Walmart.com. If a shopper can't find what they want in person, they can still shop online and find the options they want. The endless aisle evens the playing field and empowers brands to up their discovery through savvy ad placements rather than mere clout, name recognition, or even in-store merchant deals.



Effective Walmart Advertising Strategies from the Experts

Once you've signed up for Walmart Connect and expanded your retail media network to include Walmart advertising, it's time to implement the winning strategies. We talked with our account experts, and these are their five must-dos for brands in 2023:


1. Use Manual AND Automatic Campaigns
Advertisers familiar with Amazon may tend to shy away from automatic campaigns in favor of manual campaigns only. However, on Walmart Connect, it's manual campaigns with fewer supply and optimization options, whereas automatic campaigns give advertisers more control. Plus, manual campaigns are only available for search and in carousel. Advertisers should utilize a mix of automatic and manual campaigns to take advantage of all available placements.
2. Constantly Refine your Bidding Strategy
With Walmart Marketplace daily adding more sellers, the chances of being found in search will get more challenging. This is where bidding will become crucial. Utilizing reports like the page-type performance report will help you refine your bidding strategy. An effective and adjustable bidding strategy ensures you are still found by shoppers while not falling behind as Walmart.com grows and adds more players.
3. Product Detail Pages Need to Wow
It isn't enough to attract shoppers to your product detail pages—they need to convert on the spot. Make sure your whole catalog of products is optimized for conversion and that each detail page has thorough descriptions, product variants, reviews, multiple high-quality images, and properly formatted and high-resolution videos. Anything less and even the best ad campaign won't perform.
4. Utilize Walmart Sponsored Ads
Sponsored Ad campaigns are a powerful tool in an advertiser's belt. These ads target shoppers at the perfect moment since they appear while a shopper is actively searching for relevant products. They're also cost-per-click, so you'll only pay when a customer clicks on your ad. If you're new to Walmart Connect, Sponsored Ads are an excellent way to target in-market shoppers. Plus, Sponsored Ads are great for short-term campaigns since they boost engagement, help drive traffic, and increase conversions.
5. Keep Your Ear to the Ground
Another key strategy for 2023 is to stay up-to-date with the latest Walmart Betas or any relevant blog post. Walmart grew rapidly this year and plans to continue growing in 2023 to stay competitive. With new placements and targeting opportunities frequently announced, keeping your ears open and allocating investment to test new tactics will allow you to stay agile in the retail media advertising landscape.

For example, when second-price auction was introduced in Walmart's advertising console mid-year this year (2022), our retail media experts shifted their bidding strategies as we tested for lower bid thresholds. Ultimately, we maximized our clients' visibility while also keeping costs low.
Last Piece of Advice

All the aforementioned strategies will undoubtedly help your bottom line. But one of the easiest and surefire ways to boost sales on Walmart Marketplace is to hand things off to a retail media expert.
A skilled eCommerce agency like Channel Bakers knows all the ins and outs of juggling a retail media network. It is important to outsource to a Walmart advertising agency rather than build an in-house team in today's economic environment. Try finding the time to comb through reports from 3+ retail sites. Or ensuring that the creative messaging is consistent across all of them. Even knowing the nuances of each site can cause a headache.

If your brand wants to grow and scale profitably, talk to the experts.