The latest feature to be added to Amazon's A+ modules is the Brand Story, a below-the-fold vignette that enables brands to talk about themselves, share their values, and connect with the customer.
In this quick blog, we'll cover the Brand Story feature, why brands should add it to their Amazon creative content, and why this addition to your product detail pages will resonate with millennial and Gen Z shoppers.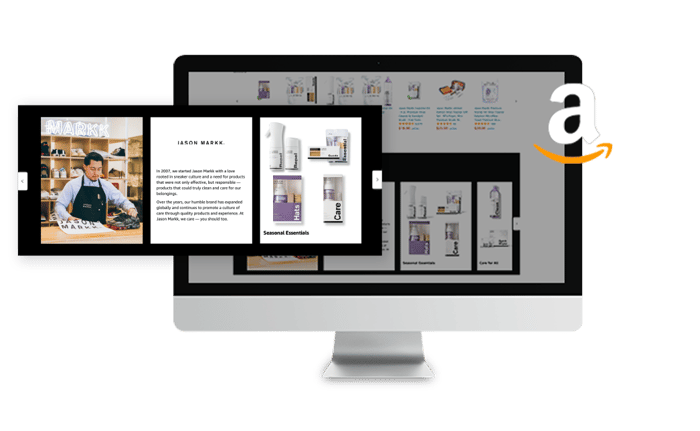 What is Amazon's Brand Story?
The Brand Story is located right below the bullets and image gallery and above the traditional A+ content. Technically this module counts as a piece of A+ content, but it has a slightly different function than what you've been posting below the fold.
The Brand Story looks like a mini catalog or like an image carousel. Instead of posting close-ups of the ASIN on hand, the Brand Story is used to tell an origin story, express the brand's values, and make an emotional connection with the shoppers.
Additionally, the Brand Story can be displayed on your entire catalog of products to present a unifying story across your Amazon presence. If you desire, you could create a unique Brand Story for each of your products or a couple of different Brand Story templates that distinguish different product categories.
The Channel Bakers creative team has already found success with the Brand Story feature, despite its size and novelty compared to other A+ modules and templates. If used effectively, we believe this new module will be an invaluable tool in your quest to convert the customer.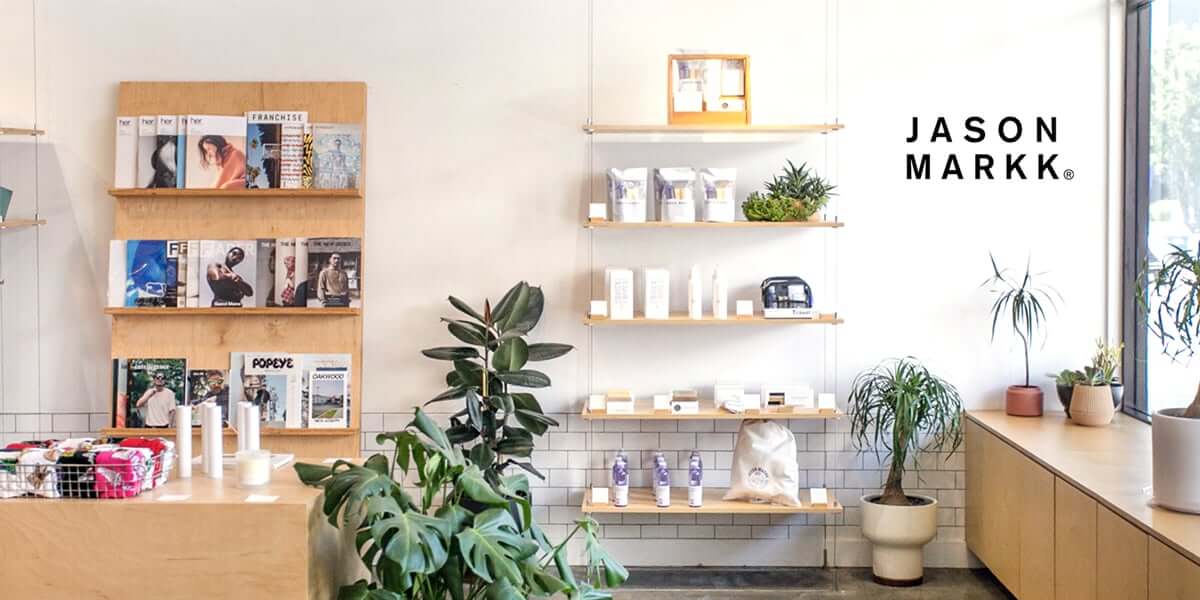 Amazon Brand Story Examples
The Brand Story can take many shapes depending on a brand's needs:
A clothing brand could describe where they source their products
A technology company could display awards they've earned throughout the years
And a brand with a massive catalog could link out to its brand store
What Makes a Good Brand Story?
We know millennial and Gen Z shoppers are motivated by brands who do good. So, use the Brand Story to feature your business's stance on the environment, ethical causes, or playful beginnings.
A good Brand Story is aimed at upper-funnel conversions and zeros in on new-to-brand customers. It also frees up your above and below-the-fold content fields so that those areas can focus more on product features.
Channel Bakers has a deep partnership with Jason Markk. In fact, they were one of our first clients who wanted to try out the Brand Story feature: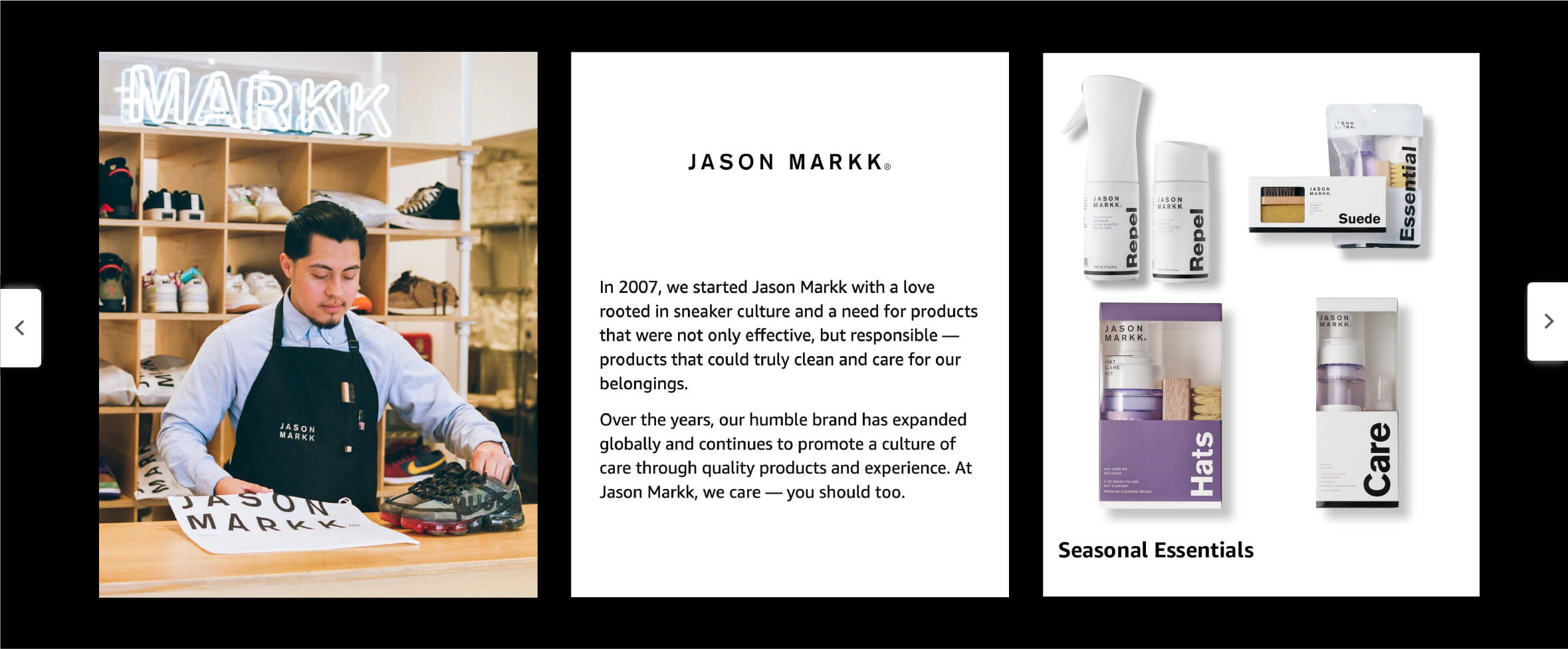 In the example above, see how we show Jason Markk's mission statement, display their work in action, and give the audience a reason to humanize and sympathize with a company they may have just discovered.
Beyond the values of Jason Markk, Channel Bakers also added to the carousel several internal links to other products in the premium shoe cleaner's inventory. This ensures shoppers are exposed to even more Jason Markk content and limits the exposure of competing brands.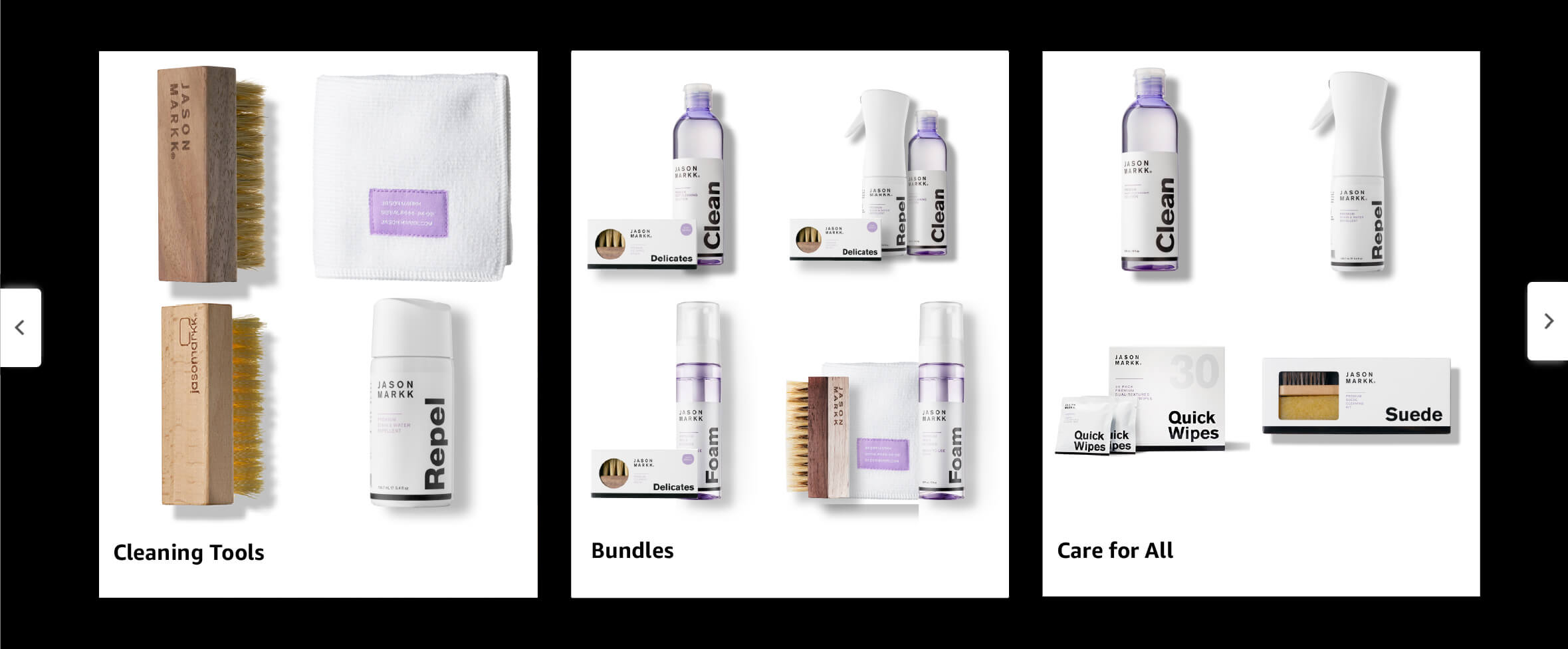 How To Set Up Your Brand Story?
Setting up the Brand Story module is straightforward:

| | |
| --- | --- |
| | In Seller or Vendor Central, choose the 'A+ Content Manager' option under the Advertising tab. |
| | Click on the blue tab that says, 'Start Creating A+ Content'. |
| | Next, you'll have the option to create an Enhanced Product Description (traditional A+ content) or a Brand Story. |
From here, things should feel similar to other content modules on Amazon's advertising platform. Remember that copy needs to be concise, impactful, and meaningful. Images always need to be high resolution and have a logical hierarchy. Finally, invite the shopper to come with you on your brand journey.
Why Do You Need A Brand Story?
Shoppers care about a company's values just as much as they do their products and services. Individuals in the millennial and Gen Z categories, in particular, care deeply about a brand's "why", mission, and impact on real-world issues.
As many as 87% of consumers said they would purchase a product based on values.
A Global Sustainability Study from 2021 found that 60% of consumers rated sustainability as an important purchase criterion.
A Sprout Social study found that 70% of consumers believe brands should take a public stand on social issues.
The Brand Story is the perfect place to tell newcomers what matters to you. A good Brand Story will tip the scales and turn socially conscious consumers into loyal repeat shoppers.
Concluding Thoughts: Who Can Use a Brand Story?

Like some of Amazon's other A+ premium content rollouts, only brands that meet specific criteria can add the Brand Story feature to their product pages. If you want to start using the Brand Story module, you need to have a successful track record of selling on Amazon.
If you want to know if you qualify for the Brand Story feature, reach out to your Channel Bakers Account Manager. If you don't have an Account Manager, then our Business Development team will be happy to answer any questions.
---

Julio Arvizu is a creative veteran at Channel Bakers who knows Amazon inside and out.
Having worked on hundreds, if not thousands, of ASINs, Julio ensures our designers create stunning, brand-accurate content that turns shoppers into buyers.
---