Amazon outdid itself for the eighth year in a row. As Channel Bakers accurately predicted, 2022's Prime Day was the most successful in Amazon's history. Worldwide sales climbed to an estimated 12 billion U.S. dollars, and worldwide units sold were well over 300 million. Plus, this was all done despite consumer fears of a recession and rising prices on basics and household items.

With the success of 2022's first Prime Day, brands have been eagerly looking forward to the second. Whether you're ready for October 11th and 12th or feverishly preparing, here's every last minute detail brands need to be aware of for Amazon's second Prime Day.
How To Prepare For Amazon's Second Prime Day
Get ready to drive your bottom line by riding on top-of-the-funnel tactics this October. While 2022's second Prime Day is going to be another opportunity for brands to make up revenue lost during a slow economic year and a chance to clear their shelves of pent-up inventory, it is also an early drum-up toward brand awareness and buyer engagement before Turkey 5 and the holiday shopping season kicks in. Coined as the Prime Early Access Sales by Amazon, this will be a primer for what to expect during the upcoming Black Friday and Cyber Monday tentpole events.
Checklist: Amazon Prime Day & Preparing Tor Tentpole Events
Just as we talked about what brands should do Before, During AND After Prime Day, we continue to emphasize that brands should carve out separate advertising spend just for tentpole events. You can't just "show up" to an event like Prime Day. It's imperative that distinct campaigns must be readied in advance; your inventory has to be well stocked. The "clean-up" required afterward is an additional necessity. Brands look unprofessional if out-of-stock ASINs are still part of banner ads or if Prime Day creative messaging is still up the day after.
Refer to Historical Data: If you've only just started planning for the second Prime Day then you're in luck. A lot of what you learned, from traffic build-up to creative messaging, monitoring your competition, and reserving funds for next-day marketing efforts, will apply again for the second Prime Day.
Identify the Ideal ASIN: It is important to know which ASIN you want to roll out for the early access. Segregate your hero ASINs for Amazon's early access sales and Turkey 5 without repeating them for the holiday shopper. Variety will not only keep your loyal customers hooked but also ensure that you have sufficient time to clean up before the next tentpole event rolls in.
Know Your Shopper: The same general trends in shopper behavior will apply too. Research by Channel Bakers found that 47.5% of shoppers plan to spend "a little more" or "a lot more" than last year. We also learned that Prime Day is a "me day" as 90% of all shoppers plan to buy items just for themselves. Another behavior to pay attention to is that 27% of survey respondents plan to try new products or brands.
Channel Bakers also found trends in shopper behavior that played a role during the event itself. A little over 40% of Gen Z shoppers planned and started their shopping at midnight.
Leverage Social Media: Generating excitement for your ASIN is going to impact engagement for it on Amazon Prime Day. Social selling is a great way to tickle your shopper into knowing what to anticipate on October 11th and 12th, and drive shoppers to your deals during your deal period.
Over 52% of Gen Z shoppers check out

products on TikTok before making the

purchase decision.

Source: StudentBeans 2022 research
Don't Forget About Other eCommerce Retailers: Recall that our surveys learned about 20% of shoppers plan to comparison shop on Prime Day. Now when it comes to the second Prime Day, other retailers are also gearing up to face Amazon's early sales. Walmart, Target, and BestBuy will compete with Amazon by offering their own deals and discounts. Be prepared for price matching. Make sure you have a cross-channel plan that includes all retailers for this time period.
Use Amazon Prime Day Early Access To Kick Off Your Holiday Season: Consider this your early run up to the Holiday Season. You have to be prepared to go the distance this year. Use this tentpole event to clear out your overstocks and discontinued items. Make sure you don't go out of stock on anything you want to carry into the holiday.
Monitor your competition. Anticipate their moves for the holidays, and make your plans accordingly.
And most important…have a plan for the traffic generated over Amazon Prime Early Access Sales. Think of this as an early gift from Amazon. Get your advertising plan ready for the Holidays. Make the most of retargeting to convert shoppers into buyers.
Explore: Check Out Channel Bakers' Campaigns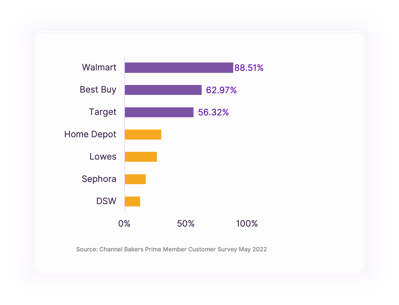 Where do Prime Members plan to comparison shop?
Please check out our previous blog post about What to expect from Shoppers.
We will continue to harp on this—a lot of what we learned from the first Prime Day will apply for the second, so study where you can since this tentpole event is days away.
What Will Make Amazon Prime Day #2 Unique?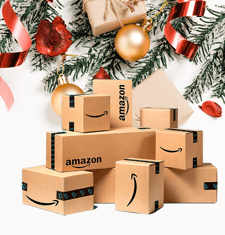 Now that we've touched on the many similarities between the first and second Prime Day, let's touch on the big difference everyone's been preparing for: the proximity to Turkey 5 and the holiday shopping season.
All your marketing decisions must play Amazon Prime Early Access Sales events off of your goals for Turkey 5.
Segregate your ASINs between both events. Brands will hurt their profits if they market the same ASINs for the second Prime Day and Turkey 5. You want to take advantage of both events—not cannibalize one due to poor planning. Run different campaigns, create new social, and optimize your content appropriately for each.
Save your hero ASINs for Turkey 5. All your meaningful Q4 products should not be discounted and marketed during Amazon's Prime Early Access Sales. While it might be tempting if you successfully sold your top-shelf products during the first Prime Day, Channel Bakers would caution against this.
Amazon's Prime Early Access Sales is the perfect chance for brands to get excess inventory off the shelf before the holidays. A recent webinar by eMarketer titled "Retail Media: A Closer Look at Our Ad Spend Forecast and Critical Trends" found that retailers including Target, Walmart, Gap Inc., Abercrombie & Fitch, and American Eagle Outfitters have found themselves with excess inventory due to such compounding factors as inflation, supply chain disruptions, and recession fears. The last thing a brand wants is to go into the holiday season with tons of extra, unwanted products. The second Prime Day is the best and last way to remedy this.


What will make this Prime Day unique for brands, then? In summary, save your big ticket ASINs for Turkey 5 and heavily market your excess ASINs during Prime Early Access Sales. Take advantage of both events and tweak any part of your plan that doesn't include that.



Prime Day Deals vs. An Incoming Recession



Important to touch upon - much like consumers, brands are concerned about the current economic downturn. The knee-jerk reaction has always been to tighten budgets and cut down on advertising or retail media spending. While we sympathize with these concerns, this path won't help you win during a financial crisis. As economists have pointed out - the survivors of a financial downturn don't cut their ad spend BUT spend differently. They spend smarter.

Related Article: How To Recession Proof Your Business
The Last Word
What is the best course of action for Amazon's Prime Early Access Sales? Finish building up your campaigns and spend the necessary dollars—brands have a chance to win again in 2022 on Amazon and walk away better prepared for the holidays.