[Read time: 5 - 7 minutes]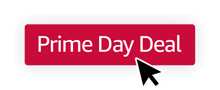 Prime Day invite-only deals took a lot of shoppers by surprise. Sure articles circled days before the biggest sales event of the year, but many were shocked to see a brand new "Prime Day Deals" red icon next to heavily discounted products. Users gawked at an Amazon 43-inch 4K FireTV going for less than $100 while others wondered if these invite-only deals were even real.

Channel Bakers' Prime Day experts will walk you through what an invite-only Prime Day deal is, what's significant about it for shoppers and sellers alike, and predict how it will come back in the near future.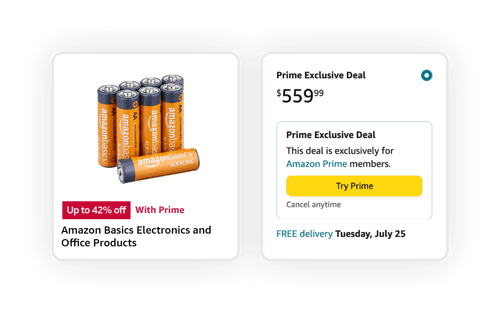 What are Invite-Only Prime Deals?
For starters, Amazon's invite-only deals are distinct from 48-hour sales and lightning deals. They are only for Prime Members and product pages will actually tell non-Prime shoppers to "Try Prime" if they want to take advantage of the exclusive deal.


Though many users saw these red deal buttons for the first time on July 11th, they actually lived on product pages for some time—some products as early as late June. Shoppers would sign up for the deal after clicking on the red button. The merchant would then "save their spot in line" reminiscent of people camping out in front of an Apple store before a new iPhone dropped.

Amazon was betting that these high demand products—including FOREO's Luna 3 Facial Cleansing Brush, Brita water filters, Presto! (Amazon branded toilet paper), and the now-infamous Amazon 4K Fire TV—would sell out very very fast. Spots were thus limited for the appropriately named "invite-only deals".

If the product sold out and you signed up too late, an email would arrive saying you failed to be included in the deal.
Is Amazon's Invite-Only Program a Scam?
The latest invite-only deal effectively came out of nowhere for most people. These exclusive sign-ups put shoppers on wait lists were available BEFORE Prime Day. If you showed up to shop on July 11th, saw one of these deals, and joined the waitlist, it was already too late.

This is why there was such a stir around that 4K TV; shoppers logged onto Amazon on Prime Day and were enticed by an insane, yet ultimately out-of-reach deal. They felt like they were just getting teased. Funny enough, one of Google's top auto fill-ins when searching for invite-only deals was "Amazon invite-only scam".

The Deal's Page had a part to play in this too. The deal's page was a new feature where Amazon displayed these heavily discounted invite-only deals. And low and beyond: front and center on that page was that Amazon Fire TV.

The truth is that those who showed up in late June and saved their spot in line for that 4K TV or Kim Kardashin's latest skincare cleanser got what they wanted. It truly was first come first served!

Amazon Invite-Only Deals & Prime Day 2
Were invite-only deals one-offs or will they be back? Amazon likes to try new things and see what will stick. So, YES! We believe invite-only deals will start showing up as early as the fall of 2023.

Prime Day 2 launched in October of 2022 and kick-offed the upcoming sales events in the back half of the year. What was officially called "Amazon's Prime Early Access Sales" was essentially a repeat of July 2022 Prime Day, so there's no reason not to expect more invite-only deals this fall.

Prime Day 2023 was the invite-only deals test run; meaning, Prime Day 2 will likely offer a more refined and prominent showcase of this feature. Think about this as another tool in your toolkit when you start planning your Prime Day 2023 promotional plan.


What Amazon Accomplished in July 2023
Consider too that online retailers have entered a sales day arms race. Walmart, Target, Costco, and Best Buy offered their own sales day alongside Prime Day. And just as Amazon pulled off two Prime Days, the other retailers came up to bat a second time too!

The invite-only deals are just one more way to stay competitive and keep shoppers on Amazon's retail site during this multi-channel shopping era. Think about shoppers waiting for their invite to arrive in their email and delaying their purchase at Best Buy or another retailer while holding out for an insane deal that may or may not be made available.

In some cases, we saw Amazon send a "consolation" email on the last day of Prime Days letting the shopper know the invite-only deal was not available, but offering a decent deal on a similar product.

If invite-only deals were exclusively for Prime Members, it's easy to see how Amazon used this tactic to increase Prime sign-ups.

Consider these Prime Day 2023 stats:
Average order size was $54.05, almost $2 more than last year.

Of the top five most purchased products, two of them (the Amazon Fire TV Stick and the Echo Dot 5) utilized invite-only deals.

66% of Prime Day 2023 shoppers said that they were extremely or very satisfied with the deals offered this year, compared to 64% that said the same in 2022.

Source: Numerator's 2023 Live Prime Day Tracker
While the invite-only deals seemed to influence larger purchases of discounted household appliances, we don't know just yet how it impacted Prime sign-ups. Once the information is available, we will post how many new Prime Members joined during Prime Day 2023 vs. 2022.
The Digital Retail War Rages On…
While the Amazon invite-only deals seemed to have dropped out of the sky, we are confident we'll be seeing them again. We recommend connecting with your agency or Amazon to consider integrating invite-only deals into your future Prime Day promotions strategy, especially with Prime Day 2 on the horizon.

This Prime Day deal is just another piece of the ever-expanding (and confusing) retail media puzzle. Don't be daunted by the seemingly endless list of nuances between digital retailers! It never hurts to lean on performance marketing experts and let them empower your omnichannel operation. Channel Bakers has made merchants big and small happy with our one-agency approach to retail media networks.