[Read time: 8 minutes]
59% of eCommerce site owners say driving traffic
to their direct to consumer store is one of their biggest pain points.
Yet, driving traffic is not only essential, it is your lifeline to growth. Amazon recently introduced a new feature that may help you tap into millions of Amazon Prime members, and provide you with a steady stream of new-to-brand traffic on your website.
The new Amazon Buy with Prime program will help Amazon Sellers attract and convert the massive market of Amazon Prime members directly on their own dot com. Plus, your shoppers get all of the benefits of Amazon Prime.
---
What Is Buy With Prime?
The 153 million Amazon Prime Members in the US shop at Amazon time and time again for the fast, free, and seamless checkout experience and easy returns. Now Amazon extends these same benefits to Amazon Sellers' eligible ASINs on their own dot com.
How Does Buy With Prime Work?
Buy with Prime offers benefits to Amazon shoppers and Amazon Sellers alike. When shoppers come to your site they will see a Buy with Prime button on eligible ASINs, informing them that your direct-to-consumer(DTC) website offers all the same benefits of Amazon Prime shopping. Both parties benefit. You'll be able to drive conversions from engaged Amazon shoppers while they will enjoy fast deliveries and free returns.
Using Buy with Prime has immediate benefits to your eCommerce website.
Reach audiences of engaged Amazon shoppers: Use exclusive insights and Amazon shopping signals to build audiences so your ads connect with the most relevant audiences and drive them to YOUR dot com.
Increase conversion: Now that you've got shoppers on your website, Buy with Prime makes it easy for them to buy with confidence.
Unlike transactions on the Amazon platform, you will get first-party data for those customers who Buy with Prime on your website. Know who bought. What they bought. How much they spent. Use that data to shift the next purchase to your website. How's that for increasing your profitability?
Why Do You Need Buy With Prime?
Buy with Prime gives new shoppers peace of mind when transacting on your website. The shopper is handed off to the Amazon cart and experiences the same comfort that he has when transacting on Amazon. The shopper never has to enter their credit card info or shipping details. Instead, he can use what's stored in his Amazon profile and proceed with confidence.

Convert More Often With the Free Delivery
Most shoppers come to the table, assuming free shipping is a given.
The "2020 State of Retail" ComScore study found that 55% of shoppers view free shipping as the most important benefit when shopping online.
Proudly displaying a Buy with Prime badge on your direct to customer website will delight shoppers who may have hesitated to buy from a brand that normally wouldn't offer free delivery.

People Love Super Fast Shipping
Similar to free shipping, fast shipping has quickly become a standard for people shopping online. Here are some valuable facts to consider:
The RILA reports that 90% of consumers see 2- to 3-day shipping as the baseline delivery promise.
Flexe's 2020 Omnichannel Consumer Survey found that 85% of consumers search elsewhere for better options when delivery speeds are too slow.
And in that same study, 58% of shoppers buy more from Amazon as a result of their same-day service.
In the past, merchants on Amazon could take advantage of the Amazon Prime features only accessible on Amazon. But not anymore! The Buy with Prime button takes that trusted delivery speed and displays it proudly over eligible ASINs on your online retail store.
---
Did You Know?
Amazon shoppers leave retail sites that can't deliver what Amazon Prime does AND spend more knowing that Amazon Prime can get their order to their front door quicker.
Benefits of Amazon Prime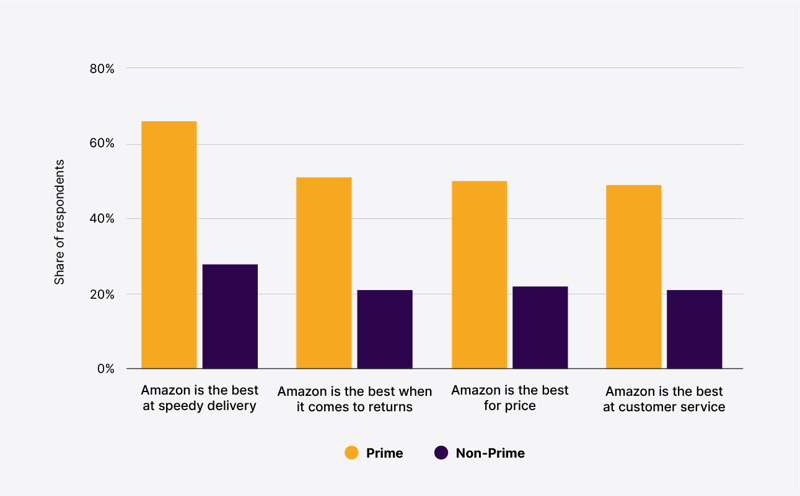 Source: Statista 2022
Thanks to Buy with Prime, the benefit shoppers experience with Amazon Prime will now be associated with your direct to customer site.
The Promise of Free Returns
Just like Amazon Prime shoppers on Amazon, visitors to your site will go from shoppers to buyers just to enjoy the convenience of easy check outs and transparent delivery dates. Returns are a breeze as well.
It bears repeating that 81% of customers want a convenient return process with no extra costs. In fact, almost 50% of all products were returned in 2020, and that trend continues to persist.
Convenience is expected when shopping online. The Buy with Prime badge makes your direct to customer website just as streamlined as traditional Amazon Prime shopping. The promise of hassle-free returns fosters more loyalty and repeat purchases from your customers.
Convenience Equals Conversion
Lastly, the Buy with Prime program will attract and delight your customers through the easy and expedited checkout experience that Amazon Prime shoppers have come to expect.
Normally, shoppers would have to punch in their credit card information and navigate through any other fill-ins eCommerce sites are placed in their way. Getting to these points in the checkout process - deters shoppers and leads to chart abandonment. Instead, he sees the Amazon Prime badge that gives him shipping transparency, delivery date and a checkout option through his account on Amazon.
Shoppers merely have to sign in to their Amazon account and then their preferred payment and shipping details are automatically filled into the checkout menu. Not only is the checkout process convenient, the shopper will not need not share their credit card information across other retail sites.
Amazon Prime shoppers visiting your site will have virtually no hurdles for committing to the purchase.
This convenience will not only attract shoppers to your direct to customer site, but will also empower Amazon Sellers to create loyal customers that convert easily, ultimately increasing profit margins to their own dot com.
---
What Are The Advantages of Buy With Prime
For Amazon Sellers?

Buy with Prime acts as an additional promotional channel to attract new-to-brand customers. You will want to use Amazon DSP to target in-market shoppers from Amazon and drive them to your website.
You can also retarget shoppers who viewed your product page on Amazon but did not purchase. Instead convert them on your own eCommerce site. Increase your margin and start to build that direct relationship with the shopper.
First-Party Data at Your Fingertips
Data is king in the digital world. With shoppers buying directly from you rather than Amazon, first-party data such as email addresses, shipping addresses, and phone numbers will funnel through your hands. More first-party data means more knowledge and more power. Ultimately, this means greater profitability. According to Amazon, the FBA seller has lasting benefits of accurate first-party data:
Brands will be able to precisely pin down who their target shopper is based on demographics, region, age, marital status, etc. Knowing the target shopper/audience is vital to meaningful marketing.

The more you know about your customers, the easier it is to build direct and lasting relationships with them.
Turn Amazon Shoppers into Your Customers
According to the Statista Research Department, the main reason four out of ten U.S. consumers value shopping at Amazon is the marketplace's low shipping prices. Other leading reasons behind Amazon's appeal were fast delivery (37 percent), affordable product prices (36 percent), and the Amazon Prime membership (36 percent).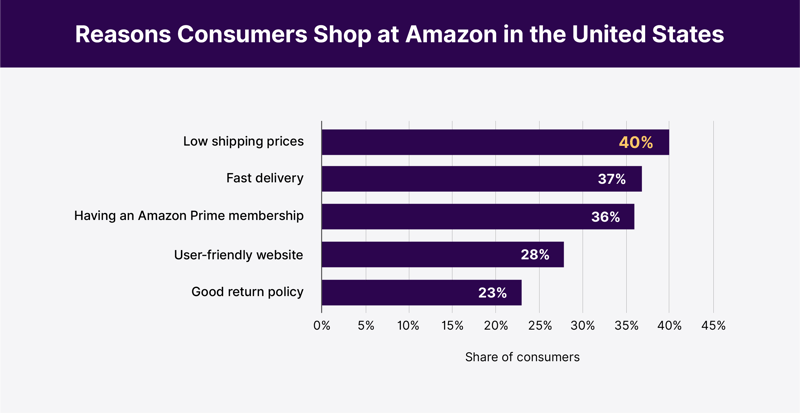 Source: Statista, July 2022
We love to highlight that the Buy with Prime badge will attract a bigger pool of the customers through engaged Amazon audiences.
---
Did You Know?
The Amazon Prime pool of US shoppers is 163.5 million
and constitutes about 65-70% of all shoppers on Amazon.
This is expected to increase to well over 175 million by 2025.
(Source: Statista, 2022)
It's easy to see how your direct to customer website's audience will convert more easily with Buy With Prime. If all the benefits Amazon Prime shoppers love about Amazon are now accessible from your site, then more shoppers who seek the convenience of Amazon Prime shopping will convert on your website. They develop more confidence in your product and will gravitate towards your website instead of your competitors (who live side-by-side with you on Amazon).
In the words of Peter Larsen, Amazon's Vice President of Buy with Prime,
"
With shoppers purchasing directly from merchants' online stores, Buy with Prime will allow merchants to build customer relationships and brand loyalty while offering conversion-driving benefits like fast, free shipping."
Simplified Fulfillment and Shipping
One other way that Buy with Prime benefits the online retailer is that it greatly simplifies the fulfillment process.
Anytime a visitor to your direct to customer site makes a purchase through Buy with Prime, Amazon's fulfillment centers can use your existing inventory and start fulfilling your Buy with Prime orders. Essentially, both your Amazon.com orders and Buy with Prime orders will be considered one pool of inventory at an Amazon fulfillment center. It's ultimately less money spent and an overall streamlined process with storage, delivery, and returns covered by Amazon.
Moving away from why Buy with Prime will grow your direct to customer site, let's talk about how a solid marketing strategy will actualize that growth.
Related Read: Did you want to talk to an agency with Amazon experts who can show you how to Buy with Prime?
Marketing the Buy with Prime Badges
Recall that 59% of site owners recognized driving traffic as their biggest pain point. Merely slapping Buy with Prime on your direct to consumer website won't change much in the long run. How are you going to let Amazon shoppers know that your dot com offers Buy with Prime?
Amazon suggests partnering with an experienced and approved agency. Agencies, particularly ones with expertise in digital retail and marketing, will be able to handle both a direct to consumer marketing strategy AND an Amazon advertising strategy.

Here are three impactful ways approved agency partners can use your Buy with Prime badge to drive traffic and help grow your direct to customer site:
Attract Amazon Shoppers

.

Display campaigns advertised on Amazon, Amazon affiliate sites, or even 3rd party sites will alert Amazon Prime audiences that your brand offers Buy with Prime. The precise timing and creative needed for remarketing to Amazon Prime subscribers will be something discussed with the agency.

Build Trust While Staying True to Yourself.

Shoppers trust the fast, free delivery of Amazon Prime. A solid marketing effort will wed the benefits of Amazon Prime with your business while still maintaining the look and feel of your brand.
Grow your Online Store. When shoppers experience the trust and familiarity they have with shopping on Amazon while getting on your website and connecting with your business directly you will be able to drive the same conversion you have experienced with Fulfillment by Amazon.


Closing Thoughts On Buy With Prime
Buy with Prime is new, exciting, and bound to experience developments. If you have any questions about Buy with Prime or want to learn more about how to partner with an Amazon expert, please don't hesitate to contact us and bookmark our blog page for more real-time updates.
If you are currently an Amazon Seller, set up can be fairly straightforward. If you are not currently an Amazon Seller, let's talk about what it will take to get you set up as an Amazon Seller.