[Read time: 7 - 10 minutes]
It hasn't taken long in the world of eCommerce for early October to become an important sales period. Amazon, Target, Walmart, and others have all scheduled big deal days and early holiday sales events in a brinkmanship contest to win new and repeat customers while clearing their shelves of excess inventory.

Let's quickly give a rundown of each major player this month, covering their strategy, aims, and what are their best October 2023 deals.
Make the Most of October Deal Days
| | |
| --- | --- |
| Retailer & Sales Event | Dates |
| Amazon's Prime Big Deal Days | October 10th - 11th |
| Walmart Deals – Holiday Kickoff | October 9th - 12th |
| Target Circle Week | October 1st - 7th |
| Best Buy's Holiday Sneak Peek | October 1st - 31st |
---

Prime Big Deal Days Preview
Why is There a Second Prime Day?
The origins of Amazon's Prime Big Deal Days go back to 2020's delayed Prime Day being pushed to October. When 2022 rolled around, Amazon had experience launching both summer and fall Prime Days and felt confident they could run two consumer buying events in the same year.

Overall, sales for Prime Day 2022 vs Prime Early Access Sales skewed toward the first:
Prime Day
(Summer 2022)
Prime Early Access Sales
(Fall 2022)
Sales in Billions
(USD)
$12.52
$5.45
Average order size
(US Shopper)
$60.73
$46.68
It's tempting to see 2022's second Prime Day as unsuccessful, but that is far from the case! Amazon counted "tens of millions" of shoppers participating in their first first October Prime Day.
Not only that, but 26% of shoppers used the Amazon sales event to buy holiday gifts, and then a staggering 96% said they would "definitely or probably" shop on Amazon again for holiday items.
Essentially, Amazon knows it can use a second Prime Day to garner extra or repeat holiday purchases on top of their Black Friday sales and even siphon off holiday shoppers who would have shopped later at physical stores or other eCommerce platforms.
Source: Numerator Prime Day 2022, Numerator Prime Early Access Sales, and Channel Bakers Prime Members Consumer Survey May 2022
Prime Big Deal Days vs Prime Day
So, how will Prime Big Deal Days differ from Prime Day 2023? We're confident that Amazon will see something similar to 2022 Prime Days numbers. Shoppers will be more enthusiastic about the summer event than the fall event.
Prime Day
(Summer 2023)
Prime Big Deal Days
(Fall 2023)
Sales in Billions
(USD)
$12.9
*around $6*
Average order size
(US Shopper)
$58.67
*$45-40*






Outside of predictions, what can merchants and advertisers




do to prepare for October 10th and 11th?



Prepare for heavy omnichannel shopping: this trend will apply to all channels, but as many as 54% of Prime members compared Amazon's prices with other retailers before making their Prime Day purchases—the same will hold for Prime Big Deal Days.
Position your holiday products: take advantage of this early October sales event to start selling your holiday ASINs. This will help you build brand awareness and buyer engagement before Turkey 5 and the winter shopping season kicks in.
Pay attention to invite-only deals: These stealth deals appeared in the summer Prime Day and massively affected the most purchased products that week. Invite-only deals have already started cropping up since October 1st! Do some quick product research on your competitors and see how you can use counter-marketing tactics like conquesting against these ASINs.
What to Look for on Prime Big Deal Days Oct 10th & 11th?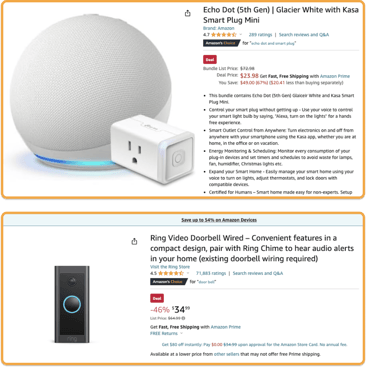 Now for the deals. Amazon tech products like Echo Dot and Fire Tablet are discounted by nearly 67% and 40%, respectively.
Apple has been showcasing some nice deals on MacBooks and Apple Watches, but their Apple AirPods Pro look particularly appealing with a 20% discount. Ring Doorbells are nearly half off and are utilizing the new invite-only deal.
Other deals range from products like Smart TVs, Purple Mattress, and fall fashion—this 50% off Sergio Hudson Trench Coat caught our eye.
---

Walmart Deals Holiday Kickoff
Walmart Goes Head-to-Head with Amazon
Walmart was the first to take Amazon head-on in the digital wars. The retail giant's heavy investments in its online store have been paying off since Walmart Marketplace is pulling up to 110 million unique users per month.
Not only that but research from Statista shows that Walmart's online growth is starting to outpace in-store growth. Online sales for Walmart worldwide in the 2023 fiscal year are predicted to reach 82.1 billion U.S. dollars, almost 11% more than 2022's sales.
Walmart's online shopper profile has also become virtually indistinguishable from Amazon's average shopper profile. College-educated, millennials, and homeowners with children are all hopping between Walmart.com and Amazon, hunting for low prices. And this cross-channel comparison shopping holds strong, especially during big deal deals—36% of Prime Day shoppers compared Amazon prices to Walmart.
When is Walmart Deals for Days? Same as Amazon's…
It's no surprise that 2023's Walmart Deals – Holiday Kickoff is scheduled to start October 9th and run through October 12th…right smack in the middle of Amazon's Prime Big Deal Days.
Early October has become a new time to optimize your omnichannel strategy and meet the shoppers where they are shopping. Take some simple steps today! Adjust your bidding strategy according to each platform's best practices, fine-tune your creative to present a unified message, and closely monitor your inventory levels across all channels.
The Best Walmart Deals to Look Out for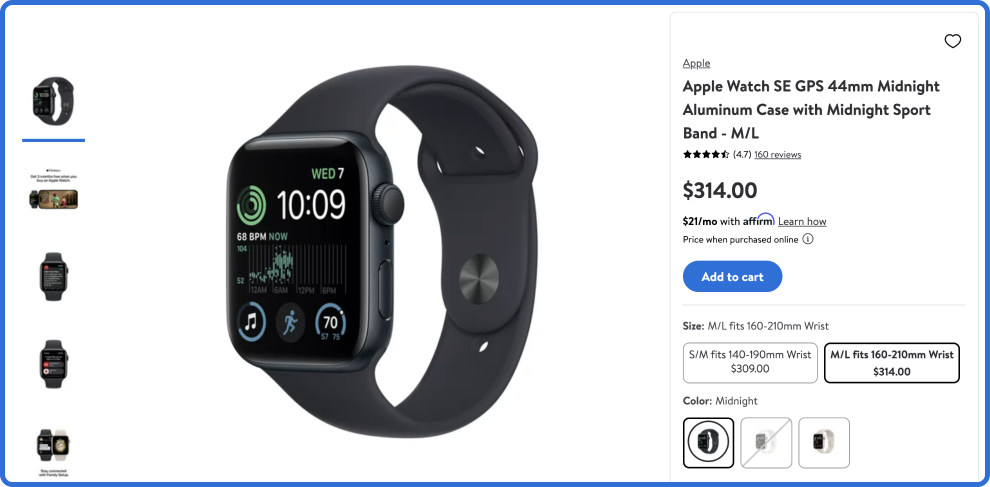 Let's jump into Walmart's exciting holiday deals! Like Amazon's Prime Day, there are a lot of tech deals: Apple Watches and Chromebooks are going for anywhere from 20 to 50% off—this Apple Watch SE has been reduced by $171.

Toys are also getting some impressive discounts. In time for early holiday shopping, this Mega Barbie The Movie Dreamhouse is almost 30% off. Backyard play items offered solid deals too, including these MaxKare and Ktaxon adjustable basketball hoops. Walmart TV deals did not disappoint either—this popular LG 4K UHD TV can save shoppers up to $200. Finally, home appliances! This Dyson vacuum and iRobot Roomba were 40% and 44% off, respectively. Almost every air purifier seemed discounted, but this highly-rated HUMSURE Dehumidifier was an incredible value, with prices slashed by $260.
---

Target Circle Week Deals 2023
Why are Target Deal Days Starting Early?
Target Circle Week is in full swing (or has even ended) by the time you read this article. Rather than compete head on with Walmart and Amazon, Target Deal Days ran October 6th - 8th in 2022 and has expanded to encompass the whole first week of the month in 2023.
We've harped on this before, but the retail media space is in an arms race. Whether they are going head-to-head or circumventing each other, the eCommerce chess game deepens in complexity every year.
Best Target Deals We've Seen So Far
Target's early sales week has so far showcased a lot of fantastic deals. For one, since the tentpole event is running during early October, Halloween costumes for kids are 30% off! This is a clever niche to fill when Christmas gifts are the focus and not the most immediate autumn holiday.

Women's jeans, shoes, and beauty products have likewise enjoyed a 30% discount. This maternity dress looked promising, sporting plenty of sizes, positive reviews, and an under $30 price tag.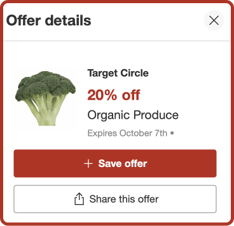 A huge array of food and grocery products were featured during Target Circle Week. Though not as high as 30%, ice cream, yogurt, nuts, coffee, and soda were all discounted by 20%. This is the time to stock up on some of your pantry essentials. Several customer surveys indicate people want to stay within budget but still spend more for the holidays, so saving money on groceries is a must. These organic produce deals are much appreciated, especially since we'll be eating way more treats in the coming weeks.
---

Best Buy's Holiday Sneak Peek 2023
How does Best Buy's Deals Month Work?
The last sales event we will touch on for October is Best Buy's Holiday Sneak Peek. What makes these Best Buy deals unique is they will run all month long. That's right, rather than compete head-to-head with Amazon or Walmart or pick the week before the big players, Best Buy wins the prize for owning the entire month.
Getting into specifics, here's four fast facts defining how Best Buy's Holiday Sneak Peek will operate:
Member Exclusive: Best Buy's sales event is for members only. The tech retailer offers two tiers "My Best Buy Plus" and "My Best Buy Total" and while there are obvious benefits for the Total members, both will enjoy this sales event and have access to reward certificates and early Black Friday deals.
Partnerships with Microsoft and Samsung: During their month-long sales event, Best Buy is offering two additional sales events; the first is hosted by Samsung (Oct. 6-8) and the second by Microsoft (Oct. 13-15). It's a sales event within a sales event—something we haven't seen from any other players thus far during these pre-Turkey 5 tentpole sales weeks.
48-Hour Flash Sale: Coinciding with Amazon and Walmart's deal days, Best Buy is hosting a two-day sales event on (you guessed it) October 10th and 11th. Since consumer electronics are so important to the two leaders in eCommerce, it only makes sense that Best Buy will directly compete with them this upcoming Tuesday and Wednesday.
Weekend Gaming Event: Video game titles are often released around the holidays and in conjunction with the latest consoles. Riding that wave, Best Buy is offering a three-day sales event from October 20th to 22nd, especially for video game hardware, titles, and accessories.

To sum up Best Buy's approach to the mid-fall sales phenomenon: go for the whole month, and the more sales events, the better!
Best Buy Holiday Deals to Look Out For
Here's a snapshot of some of the hottest Best Buy October deals:

This 14-inch HP Chromebook is 50% off, sitting at a pretty $149. It's the perfect tech gift for any college or high school student in need of a replacement device for next semester. Also, this highly-rated TCL QLED 4K Smart TV was one of our favorite Best Buy TV deals.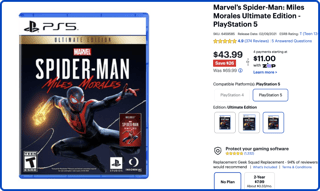 We can not forget about the video game discounts either. Easily this $26 off the Marvel's Spider-Man: Miles Morales Ultimate Edition, which also comes with the previous installment in the series, took the cake.
Final Thoughts on the October Sales Events
It's interesting to analyze how the tenth month of the year took on so much significance for the world of eCommerce. Equally interesting is how the big players counter each other, hoping to conquer more digital shelf space.
Looking to the future, Channel Bakers will definitely be investigating whether this early sales month changes the shopper participation and sales numbers for future Black Fridays and Cyber Mondays or will forever play second fiddle to the later holiday sales events.