[Read time: 5 - 7 minutes]
Missed Amazon unBoxed 2023? Or maybe just need a refresher on all the important announcements? We've got you covered!
Here's our top takeaways from Amazon Ads' seminal conference.

Takeaway 1:
Generative AI Images
The first announcement was that Amazon Ads had developed a new Generative AI tool for sponsored brand ad creative. Amazon is diving in on Generative AI and making this easy-to-use AI imagery tool accessible right in the ad console. This new feature will help empower small and medium brands generate sponsored brand imagery by simply clicking a button.
While exciting for advertisers, these AI images are still limited in what they can do—people and pets, for instance, can't be generated into the backgrounds of these images yet.

However, one neat little feature to look forward to is that while it uses your hero images to generative content dynamically, you can also save these images in your Brand Asset Library to use in other things like Posts or your Brand Store.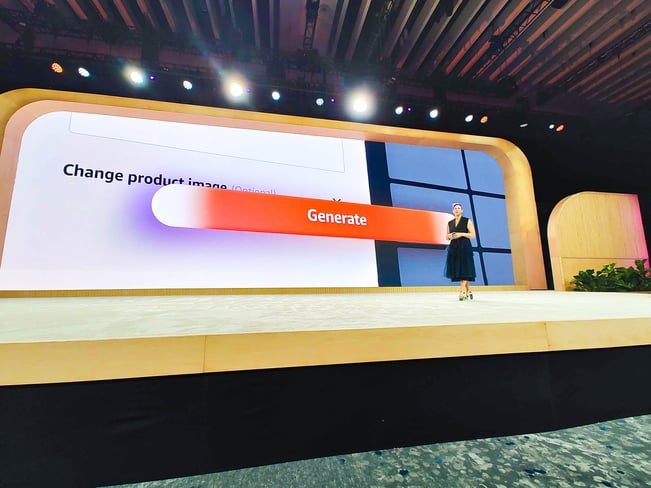 Takeaway 2:

Wider Accessibility For Sponsored TV
Sponsored TV is changing the game by making video ads accessible to advertisers that normally wouldn't meet the minimums. Historically if you wanted to run streaming TV ads, advertisers had to commit tens of thousands of dollars per month on Amazon's DSP.
Eliminating the minimum spend requirement means that anyone can run a Sponsored TV campaign and tap into the 135 million, unduplicated monthly US audience reached by streaming TV ads and Twitch.
But there's more… Sponsored TV placements are now interactive or shoppable! This means your streaming TV ads are now clickable for on-platform viewers through buttons.
Someone casually streaming Prime Video from home can now see your ad, scan the embedded QR code, and from their couch, seamlessly view your product detail page on their mobile device and even add products to their cart using their TV remote.
A Rebranding Success Story

As a side note, during the Sponsored TV announcement at Amazon Ads unBoxed, Alan Moss gave a shout-out to one of our beloved brands, Beetles Gel Polish! We had the pleasure of rebranding Beetles and partnering with them to build their PDP, Store, Video, and DSP creative roadmap—this includes Sponsored TV ads in their marketing mix!
It was incredible to see their success with Amazon Ads on this exciting activation!


Takeaway 3:

Amazon Marketing Cloud Adds Template Analytics
It seems it was only yesterday at Amazon unBoxed 2022 that the Amazon Marketing Cloud Partner Program was announced. This year, the new feature added to AMC was Template Analytics.
Amazon has a track record of optimizing its solutions, and Template Analytics is no exception to this; this new feature will make Amazon's clean room system much easier to use.
Advertisers can now run queries and develop media plans without drafting up SQL code. Instead, the Template Analytics feature gives users five pre-written AMC queries to choose from.
On the whole, Amazon data analytics have become way more accessible overnight! While this is exciting, our tech partner Intentwise is quick to point out that these five templates are static, and their use case range is limited to things like Sponsored Ads & DSP Overlap and Reach & Impression Frequency.
Takeaway 4:

Amazon DSP Updates
The pending cookie-less future has gotten advertisers of all shapes and sizes anxious for more robust tools to track audience signals and behaviors. Among Amazon's answers to this perceived cataclysmic future is DSP contextual targeting, plus three other newly announced DSP features:
DSP Events Manager: Trace conversions back to your DSP campaigns from beyond the Amazon storefront. The DSP Events Manager creates an accurate and centralized picture of how your ad campaigns are faring across the web since it relies on ad tags and not third-party data. Users can turn off or on the signals they want to track to create a data pool that matters to their advertising goals.

Predictive DSP Advertising: Similar to our first takeaway, Amazon has introduced more automation to their demand side platform. Struggling to pin down what audiences you want to target? This new predictive system in the Amazon DSP can do some of the keyword bidding for you.

Amazon Marketing Stream + DSP: Amazon's Demand Side Platform is now integrated with the AMS. Recall that advertisers can subscribe to data sets in the Amazon Marketing Stream, which then delivers updates on those metrics in near-real time. This integration of DSP and AMS means advertisers can create even more granular campaigns and start dayparting in Amazon DSP!
If much of that information went right over your head (don't worry, demand side platforms are FAR from simple), read up on the basics of DSP advertising or check out this concise guide to common Amazon DSP questions.
Another One in the Books
Do you have any questions about the Amazon unBoxed insights we just covered? We'd love to talk and clear up any lingering confusion you might still have! Contact one of our AEs, and let's start a dialogue about your future with Amazon Ads.