TikTok Shop is the latest social commerce trend of 2023. Already well-tested in East-Asian markets and even the UK, TikTok Shop has effectively transformed the social media app into an eCommerce platform.
Let's explore the brilliant simplicity of TikTok Shop, how to get started as a seller, and why brands need to hop on this social commerce platform as soon as possible.
What is TikTok Shop?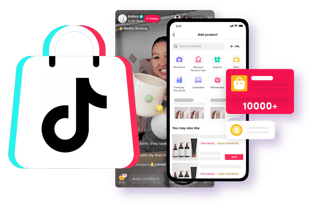 TikTok Shop is what you get when a massively popular social media app seeks to become an eCommerce-integrated app. Or, put another way, TikTok wants to keep the shopping experiences they inspire completely in-app.

When users open the app, scroll through their feed, and spy an item of interest, they don't need to leave the app and open Amazon or Google to search for that product. Instead, TikTok Shop turns TikTok into an eCommerce platform where users can select, checkout, and advocate for products.
TikTok Shop empowers users to find products on their "for you page" and then go straight to a checkout basket where they can make a product purchase all within the app.
Why Would TikTok Create an eCommerce Store?
Think of the phenomenon of #TikTokMadeMeBuyIt. TikTok internal metrics record that 8.1 billion videos were published on this viral hashtag. The process was similar to word of mouth, but instead of one person to another, it was one creator to their many doting fans.
The numbers back this up; a worldwide TikTok user survey found that: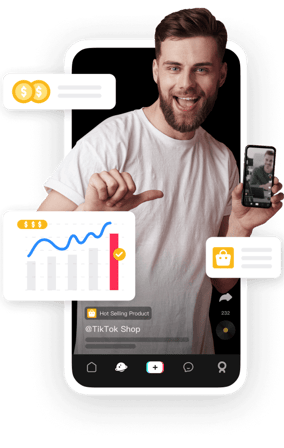 The problem for TikTok, as said earlier, wasn't that there weren't eager potential shoppers on their app but no way to keep those shoppers on the app. The social media platform needed a system so users could natively browse and buy products.
Thus, TikTok created an eCommerce store to close the gap between awareness and sales and keep sales and traffic right at home.
The Importance of Social Commerce
Let's pause from TikTok Shop and focus on the broader picture: social commerce or social selling has become a digital advertising pillar. A 2022 survey by Social Media Examiner found that 85% of global businesses reported that social selling increased their brand's exposure, and 75% said it also increased their traffic.
We'll go so far as to wager that merchants won't reach their eCommerce potential unless they have a functioning retail media network and a dedicated search + social strategy.
Content and Commerce are now inseparable. Only an omnichannel approach can effectively mesh social selling with traditional retail media networks.
Channel Bakers and others understand that everything social, from search to influencers, isn't merely nice to have… it is vital. Social selling is key to finding new customers and growing your business.
Major Trends in Social Media Advertising



Below are the top factors that shape the social commerce trends of today. You'll quickly see why all of them intersect with TikTok and why brands that market on TikTok have successfully grown their sales in 2023.
1.

Social Selling is VERY Popular:

US social commerce buyers have climbed to 100 million in 2023 and are suspected to reach 117 million by 2026. Additionally, 40% of US shoppers have purchased a product after seeing it advertised on social media.

Thinking of the format of social selling, social media apps like TikTok, Instagram, and even YouTube offer short-form video content that lasts no more than a minute. The genius of short-form video is that it's very cheap to produce. Plus, it is immensely popular—96% of consumers prefer to watch a short-form video over other media options to learn about a product or service.

Source: eMarketer Social Calendar 2021 and Wyzowl Video Marketing Statistics 2023



2.

Gen Z's Massive Spending Power:

The kids of last year are the working young adults of today. The global Gen Z population currently earns 7 trillion U.S. dollars, representing 27% of the world's income. Almost half are employed, and only 42% are still students.

Looking at their behaviors, an impressive 97% of global Gen Z consumers use social media as their top source of shopping inspiration. This age group reports that TikTok is their favorite app, 42% of them begin their product search on TikTok, and they rank the highest for mobile shopping and usage of social channels.
Source: The Influencer Marketing Factory, Status of Social Commerce Report 2021



3.

Influencers Are Your New Brand Ambassadors:

Consumers are becoming less persuaded by celebrity endorsements but have shifted toward a type of micro-celebrity called a creator or influencer. Creators are akin to a reputable news source mixed with a representative for a small internet community. They usually don't have over 100k followers and have no problem giving their unadulterated opinion on a product (hence the trust their followers give them).

And boy do people, especially those below 29, trust creators. 90% of Gen Z shoppers follow creators on social channels and seek them out for tips and buying advice. Additionally, 71% of this age cohort regularly buy products from creator recommendations.

It's not just Gen Z—in a general population survey, 82% of participants said they are "highly likely" to follow a recommendation from a creator. Plus, almost 50% of all consumers report sharing creator recommendations on social media.

Source: LTK "Gen Z Shopper Study" 2022 and

Forbes 2023
Why Should I Become a TikTok Shop Seller?
Now let's circle back. We touched on why TikTok Shop is the logical next step for the social media giant, and we covered why social media advertising has become so necessary today. But let's go personal: why should any brand, big or small, start advertising, selling, or promoting their products on the TikTok eCommerce store specifically?

TikTok Shop or Amazon?
When brands come to us looking to optimize their eCommerce posture, they'll usually lead with "Should I get on Amazon or TikTok Shop?" Well, it depends on your audience.
A majority of Gen Z start their product search on TikTok, whereas others, like Millennials and Gen Xers, tend to start their search on Amazon or Google. Even if your target audience is not comfortable yet buying from TikTok Shop, merchants can still use brand awareness through a TikTok creator to kickstart the shopper journey and get that 30-something to shop on their Amazon brand store.
Brands that also want to expand their reach should get on TikTok Shop. Even though TikTok has effectively cut Amazon out of the attribution window and is now just as full-funnel as Amazon or Walmart, brands can still benefit from growing their retail media network. Put simply, it never hurts to grow your digital shelf space and reach new potential audiences.
For more on creating incremental growth and not shifting audience share from one channel to another, check out our helpful omnichannel case study.

The Early Adopters are Already On-Board
Channel Bakers isn't joking when we say TikTok Shop is going to blow up. There's a serious urgency to join TikTok Shop now before your competitors do.
TikTok no longer needs a middleman to sell products and is gearing up to go toe to toe with Amazon; in fact, TikTok Shop has lowered its fees way below Amazon's.
It's never been easier to scale with affiliate marketing,​ and there are PLENTY of brands who have already created blueprints for winning on TikTok Shop. Just as Walmart Marketplace was (and still partly is) a haven for sellers, brands don't want to miss TikTok Shop's minimal competition and low marketing costs.

What is the Commission for TikTok Shop?
It is free to register an account on TikTok Shop, and there is no monthly fee. Fees are commission-based, with TikTok only taking 5%. Here are two handy calculators for how the pricing works:

| | |
| --- | --- |
| Formula Type | Calculator |
| Referral Fee | 2.0% (Customer Payment + Platform Discount) + 0.30 USD per order |
| Commission Formula | (Revenue - Refunds) x Commission rate |
For more on fees and pricing click here.


What to Expect on the TikTok eCommerce Platform
To wrap things up, let's cover the nuts and bolts of the TikTok API, which breaks down into the Seller Center, Ads program, Affiliate Marketing, and other need-to-know features. Like Amazon, Walmart, and Target, TikTok Shop gives merchants with physical products a platform to sell those products. And just like most online retailers, TikTok Shop has plenty of tools to empower its sellers.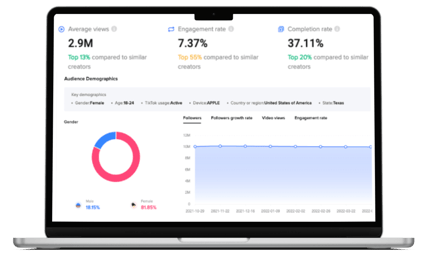 TikTok Seller Center: A one-stop workstation for merchants to run their e-commerce operations on TikTok. The web portal provides users with all the tools they need to manage store operations, product listings, campaigns, and order fulfillment, as well as view performance, track traffic analysis, and run promotions.


TikTok Ads: TikTok's advertising solution for managing paid campaigns. The TikTok Ads Manager is easy to use and provides all the features you need to launch and test ads, measure performance, and promote shoppable videos​. Ads on TikTok can send users to your DTC website or even to your Amazon product pages​.


Affiliate Marketing: TikTok shop's affiliate program gives sellers a channel to connect with creators who can sell to their audiences on your behalf. In the Affiliate Program, merchants can access a list of creators and filter who they want to find and work with. Creators can also use the affiliate program to find products they want to promote for a commission on sales.



Affiliate Plans include:

Shop Plan: Quickly set a basic flat commission rate for all products.
Open Plan: Create a special plan for particular products, open to all creators.
Targeted Plan: Invite particular creators to promote selected products.



TikTok Shop Partners: If brands need assistance running their TikTok Business, merchants can get access to service providers who can help manage their shop, find content creators, and run livestreams on their behalf.
Conclusion
TikTok Shop is here to stay and will be at the forefront of social commerce trends in 2023 and beyond. Hurry! The boat hasn't left the dock yet, but time is running out to be an early adopter.
Have any lingering questions about TikTok Shop? If you want to dive into fulfillment options or other search + social solutions, we'd love to connect and clear up any confusion!