TikTok has come a long way from its pandemic pastime beginnings. Today, most products and businesses are advertised through TikTok influencer marketing and paid advertising. Per Google, 52% of TikTokers say they find new products and ads on TikTok and 40% of Gen Z prefer to start their search on TikTok rather than Google or Instagram. TikTok is one social media platform that brands can't afford to dismiss.
Why TikTok?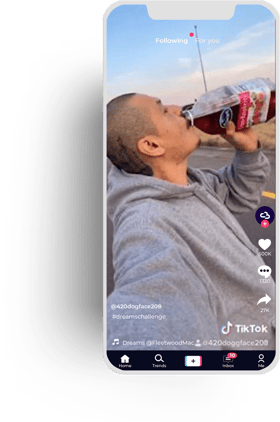 TikTok is not just for popular new trends and dance challenges. Today TikTokers use it to showcase life hacks or to place a spotlight on their favorite brands and products. This is where a brand has the potential to achieve accidental overnight success.
For instance, In 2020, Ocean Spray experienced an unexpected spike in popularity thanks to the#Dreamschallenge posted by TikToker Nathan Apodaca.
Whether you decide to go down the route of utilizing TikTok influencers, paid advertising, or your brand achieves accidental popularity, your brand stands to achieve greater success through TikTok marketing than any other social platform today..
TikTok will surpass

Snapchat by 2023

The Benefits of TikTok Marketing
Creating a TikTok page for your brand is simple. With it, you can instantly create new content and begin engaging with your target audience immediately.

TikTok marketing can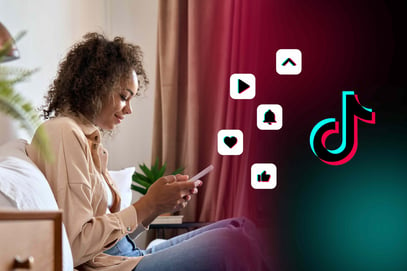 Increase brand awareness: According to Influencer Marketing Hub, TikTokers spend more than 850 minutes a month on the platform. TikTok creators have a unique opportunity to get seen and go viral more so than on any other social media platform. Creating your own TikTok and partnering with TikTok influencers significantly increases your brand awareness.
Build engagement, for lesser: TikTok's algorithm also caters to what users are interested in. Therefore, your brand stands a greater chance of being placed in users' "For You Feed'' if your product aligns with their interests. Unlike with paid ads, this type of user engagement can be accomplished with a much smaller budget.
Gain real-time feedback: The beauty of TikTok reels is that viewers can actively engage with influencer content right away. Whether they like or don't like the product, viewers can type their thoughts in the comments section. Users can even ask clarifying questions about the details of a product such as colors, fit, etc.
Appeal to target audiences: Over 60% of TikTok users are under 35 years old. Additionally, 60% of TikTok users in the US are women, according to wallaroomedia.com. Therefore, catering to your audience is key. Connect your brand's content to popular niches on the platform. Some of the most popular niches on TikTok include challenges, dancing, life hacks, and parenting. Once you're confident that your brand's TikTok will appeal to your target audience, you stand a greater chance of brand awareness, engagement, and even going viral.



How to Build Your Brand with TikTok Influencers



With TikTok's monumental success, marketers would be remiss not to tap into the power of TikTok influencer marketing. This is the process in which brands partner with TikTok creators to create short videos that promote the brand.

Partnering with an engaging TikTok influencer helps brands to reach their audience organically. Though brands have the opportunity to create paid ads, these types of advertisements often achieve less engagement than influencer marketing.

In fact, aspire.io reports that 34% of TikTokers purchased products because of influencer-generated content. With TikTok influencer marketing, viewers get social proof of the brand's benefit. Along with obtaining social proof, viewers also come to feel a sense of trust in your brand.
TikTok and the Gen Z Community
TikTok has garnered mass appeal with users young and old, however, the Gen Z population makes up the bulk of its widespread viewership. In fact, Business Insider reports, the Gen Z community has even begun replacing Google as their primary resource for searching for new products and content. According to fanbytes.co.uk, 31% of Gen Zers say that TikTock makes them feel good. As a brand, you should take this opportunity to showcase your content in ways that make your audience "feel good".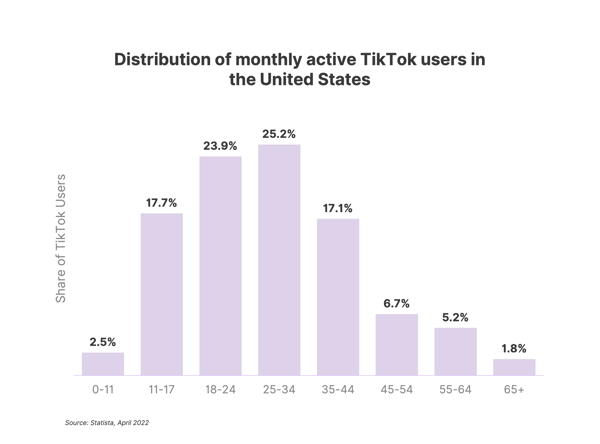 TikTok Best Practices for Brands in 2023
To capitalize on your brand's potential to go viral with TikTok, here are a few best practices to keep in mind.
Include Attention-Grabbing visuals


Influencer marketing hub also stated that in one internet minute, 167 million TikTok videos are watched by users*. To ensure that tiktokers don't skip right past your reels, your content must be engaging. If you're unsure of the types of content that resonate with your audience, take a look at some of your competitor's TikToks and related reels for inspiration.




Add Background Music
Unlike Amazon ad videos, TikTok requires you to keep audio settings on so it's highly recommended to include catchy and engaging audio in your reels. Try to consider what style of music best suits your brand and your audience. You may even choose to include humorous sound bites instead. Socialmediatoday.com reported that 88% of TikTok users say that audio is an important part of the experience.


Create Concise Captions
Captions are a great way to improve SEO and the accessibility of your content to all your followers. Some users won't or can't watch all of your videos. For this reason, captions become more important. Choosing to include a concise caption summarizing your video and using common language will help viewers stay engaged with your content and your brand even if they don't commit to watching the entire video.


Play The Hashtag Game Correctly
Hashtags enlarge your audience base. Knowing which hashtag to use and which one to avoid is important. The more accurate your hashtag game, the better search results and higher engagement you will get. TikTok itself will assist in getting you as many appropriate hashtags if you insert a broad key term into its search and see what it spits out for your niche video.



Insert a Compelling Call to Action


With TikTok's mass appeal, it's still important to let users know what action you want them to take after they've consumed your content. Don't miss the chance to include a clickable button or link that will prompt users to visit your website, install your app, or sign up for your newsletter.
Channel Bakers' Answer to TikTok's Creative Challenge
Are you finally convinced that TikTok is the way to go, but not sure how to take it to the next level? Let Channel Bakers help! Our team of creative Bakers can do your TikTok paid ad program, reporting, and even create campaigns with award winning video ads, UGC style creatives, 360, animated, or 3D and can tell your brand story by crafting the right content for your audience. See our portfolio and let's kick off a conversation.
If your goal is to drive more traffic to your Amazon brand store, then you'll need to harness the power of TikTok marketing. Our talented and experienced team of creatives will create flawless and engaging TikTok content that is sure to appeal to TikTok's prime demographic, (Gen Z), and bring you the conversions you seek.
Conclusion
Channel Bakers understands that the Gen Z demographic predominately purchases products based on TikTok user-generated content (UGC). This is the content that helps build trust in your brand. We holistically integrate your TikTok campaigns into your overarching ad strategy - ensuring consistent brand messaging and value proposition to build customer engagement and recall. With this in mind, Channel Bakers will seek out top influencers in your industry and create engaging assets without you having to lift a finger. If you're ready to utilize TikTok to help you get the results you seek, then contact our team today and let us help you grow your dough with TikTok!